Truck Stop Women.
It's Keep On Truckin' month at The Loft, and what better way to treat yourself then by seeing a movie about a badass mother-daughter duo? Better yet, it's only $3! The Loft Cinema is premiering this 1974 film on Monday night at 8:00 p.m. This action packed film will pull you in many directions, from a brothel to having to fight the mob, you're bound to be surprised. 3233 E. Speedway Blvd.
Details Here.



Black Holes: The Other Side of Infinity.
Calling all science lovers, this is the event for you. Take a look into modern science and learn all about black holes. The UA Flandrau Science Center is showing The Other Side of Infinity a film narrated by Liam Neeson. 1601 E University Blvd. 4 p.m. Free.
Details Here.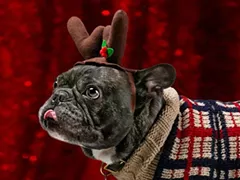 Pet Photos with Santa.
Get into the Christmas spirit and take Holiday pictures with your precious best friend. Pets are family too and we must make sure they know! What's the best part about it? No crying babies! Domestic animals only and please make sure to clean up after your pet! Every Monday 5:00 p.m to 8:00 p.m. until Dec. 17 at the Tucson Mall. 4500 N Oracle Rd.
Details Here.


Send Us Your Photos:
If you go to any of the events listed above, snap a quick pic and message it to us for a chance to be featured on our social media sites! Find us on
Twitter
,
Facebook
and
Instagram
@tucsonweekly.
Events compiled by Brianna Lewis, Emily Dieckman, B.S. Eliot and Jeff Gardner.