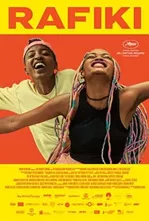 Rafiki at the Loft Cinema.
The Loft Film Fest is here, so it's an excuse to see as many movies as possible. Rafiki, a film in competition for the Cicae Award, is a romantic story between two women in a society that bans homosexuality. Even though this film has been banned in Kenya, the African culture shines proud throughout this movie and the director wants it to be an example of what the African film world should look like. She describes its as "Afrobubblegum" which means, fun, fierce, and frivolous African Art. See this film at The Loft at 3 p.m.
Details Here.
UA Dance "Premium Blend" 2018.
If you've ever seen a show put on by the UA School of Dance, you won't be surprised to hear that it's got what's considered one of the top dance programs in the United States. The director of admissions at Juilliard listed it as one of the best 20 in "The Performing Arts Major's College Guide," for example. At their annual fall presentation, you'll see athleticism and artistry at their finest in the Stevie Eller Dance Theatre. The 140-person ensemble performs more than 40 times a year, but this chance to see some of the best in ballet and contemporary dance in an intimate setting is not to be missed. Wednesday, Nov. 14 through Sunday, Nov. 18, with shows at 7:30 p.m. Wednesday through Saturday, 1:30 p.m. Saturday and Sunday and 6 p.m. Sunday. Stevie Elle
r Dance Theatre, 1737 E. University Blvd.
Details Here.

Eli Young Band at the Rialto.
A modern country band, also known as a true band of brothers who each play their own instruments, bring some unique beats to the stage. With their fourth studio album titled "Fingerprints" these self-proclaimed "misfits" are embracing what makes them unique. They will be performing at the Rialto Theatre on Wednesday, Nov. 14. Doors will open at 7:00 p.m. and the show will start at 8:00 p.m. Tickets $24-27 per person.
Details Here.