The EVE Project, Celebrating the Many Facets of Womanhood.
The Martha Graham Dance Company is the oldest and most celebrated modern dance company in the nation. With this show, they are celebrating the centenary of American women having the right to vote! Three of Graham's signature pieces—
The Dark Meadow Suite
,
Ekstasis
and
Errand into the Maze
—are on the schedule, as well as some new works from some of today's top choreographers, such as The Lamentation Variations by Aszure Barton, Bulareyaung Pagalava and Larry Keigwin, and Woodland by Pontus Lidberg. If you don't think you're a fan of dance, give this gripping show a shot—you might just find you're a modern dance fan after all. 7:30 p.m. Thursday, Nov. 8. Centennial Hall, 1020 E. University Blvd. $19 to $80+.
Details Here.

UA Science Café Series
. A night at Borderlands Brewing Co. is always a good time, but it's especially cool when you can kick back with a beer and learn about some of the bad-ass research being conducted at the University of Arizona. At this one, Valerie Madera-Garcia, a PhD student in the Mel & Enid Zuckerman College of Public Health, will be talking about the Dengue virus fever, a disease transmitted by mosquitos and endemic in Puerto Rico. Normally, this type of mosquito breeds in clean water, but in the southeastern part of the island, they've been known to reproduce in septic tanks—especially after Hurricane Maria in 2017. Madera-Garcia will talk about the importance of predictive models and spatial analysis to mitigate this burden for the next hurricane season. 6 p.m. Thursday, Nov. 8. Borderlands Brewing Co., 119 E. Toole Ave.
Details Here.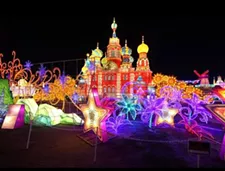 Lights of the World
. Starting Thursday Nov. 8 Lights of the World will be taking over Kino Sports Complex until Jan. 2. Lights of the World is the largest light and lantern festival in North America. Representing many different cultures and landmarks there are 11 exhibits and 75 lantern displays. There are carnival rides and games, arts and crafts, food vendors and much more. General admission tickets $24.99. 2400 E. Ajo Way.
Details Here.
Send Us Your Photos:
If you go to any of the events listed above, snap a quick pic and message it to us for a chance to be featured on our social media sites! Find us on
Twitter
,
Facebook
and
Instagram
@tucsonweekly.
Events compiled by Brianna Lewis, Emily Dieckman, B.S. Eliot and Jeff Gardner.