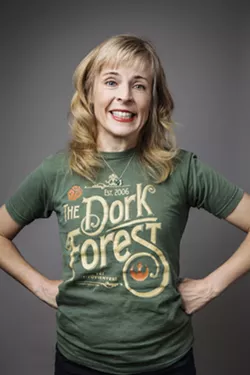 Maria Bamford fan Molly McCloy is a four-time Moth winner and PCC teacher of creative nonfiction. Bamford headlines the Tucson Improv Movement's Tucson Comedy Arts Festival with a performance at 8 p.m., Saturday, Nov. 10, at the Rialto Theater. Visit rialto.com for Bamford tickets, alone or with a $25 TCAF festival pass. Visit tucsonimprov.com for the schedule of festival performances starting Nov. 7, a festival pass and $5 tickets for individual shows.
"When was the last time you had a Peanut Buster Parfait?" I asked Maria Bamford.
"It's been so long," she replied. "You're reminding me that I need to get back to the true path."
The Dairy Queen treat comes up at least twice in Bamford's work. In one standup bit, she demands a Peanut Buster Parfait from a friend, calling out the layers in a drill sergeant's voice: "Hot fudge, peanuts, ice cream, hot fudge, peanuts, ice cream!"
In a scene from her NetFlix show Lady Dynamite, her character falls into a serious depression, and her father offers to take her out for a Peanut Buster Parfait.
I have a history of both mental illness and Dairy Queen employment in my family, so I'm sold on Bamford's humor. I especially like the way she normalizes her bipolar diagnosis, since, for many of us, mental illness is normal.
In standup sets, Bamford pencils a family history of violence into a game of "emotional sudoku," sings a deadpan song about her couples' therapist and describes a psych ward in the voice of a set designer expertly arranging the broken chairs and puzzles with missing pieces. The current tour features all new material on marriage and religion.
Bamford told me that her humor about mental illness is successful because "the audience is down for it."
She also explained the source her fabulous voice work, which includes dead-on impressions of business executives, teenagers, and hungry raccoons. "It started when I was a kid watching TV. It developed out of a need to be heard," she explained, "the idea that if you change your voice the odds might be better that you'll be heard because of the surprise factor."
Since Tucson Improv Movement offers beginning improv and comedy courses, I asked Bamford what advice she would give new comedians.
"You just start," she explained. "Tell yourself a little story you think is funny. Talk for five minutes and you do it over and over again. You add that five minutes to another five, and soon you have an hour.