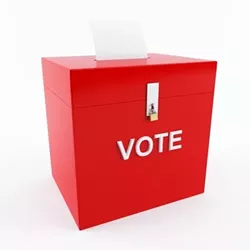 In the first release of voting results, voters appear to be rejecting a major expansion of vouchers in Arizona. Prop 305, a referendum that was placed on the ballot by voters who were unhappy with a law passed by the Arizona Legislature, is failing, with about two thirds voting against the measure.
Two thirds of voters are approving Prop 126, which would ban sales taxes on services in Arizona.
Nearly seven out of 10 voters are rejecting the clean energy Prop 127.
Prop 306, which would give the governor's office more control of the Arizona Clean Election Commission, is passing with 57 percent of the voters approving the measure.
Prop 125, which would bring slight reforms to some of Arizona's public pensions, is easily passing with was 85 percent of the vote.