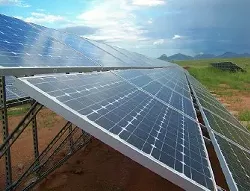 It seems Arizona voters have decided against Proposition 127, which would have required electric companies to receive half their energy from renewable sources by 2030.
If it had passed, Prop. 127 would have effectively increased an existing requirement passed by the Arizona Corporation Commission in 2006. This mandate, known as the Renewable Energy Standard and Tariff (REST), already requires regulated electric utilities to generate 15 percent of their energy from renewable resources by 2025.
The proposition was backed by the NextGen Climate Action committee, a PAC founded by billionaire philanthropist and environmentalist Tom Steyer. The NextGen-backed, pro-environment campaign is called "Clean Energy for a Healthy Arizona."
The proposition was opposed by multiple large corporations, including Tucson Electric Power and the Pinnacle West Capital Corporation, owner of the Arizona Public Service power company. Pinnacle West's anti-Prop.
As of reporting, 69 percent of voters turned down Prop. 127, while 30 percent approved.