Sauce Pizza and Wine's new seasonal menu
. For the fall season, new limited-time dishes will be offered at Sauce. Known for its made-fresh-daily food, Sauce is rolling out a variety of different options, such as the winter roasted vegetable pizza, roasted portobello and artichoke bruschetta, and pumpkin and candied pecan cannoli. This will be available at all four Sauce locations in Tucson.
Details Here.
Free Opera Previews.
Oro Valley Council Chambers will be hosting Arizona's Opera. You get a chance to see what to expect for the 2018/19 season. Students from the University of Arizona will be performing. The Opera Guild of Southern Arizona helps vocal students from undergraduate to graduate level and gives them the chance to perform within their community. "Say Hello to the Opera" will begin at 2 p.m. so get ready to hear some students sing their lungs out! 11000 La Canada Drive. Free.
Details Here.
No Boundaries.
The Wilde Meyer Gallery's November art show isn't constrained to one single theme—in fact, with a title like "No Boundaries," it's not constrained in any way at all. This eclectic show is all about letting artists' imaginations run wild, whether they're depicting Tucson landscapes, abstract wildlife or patched-together people. Rudie van Brussel, Peggy McGivern, Maura Allen and Sarah Webber are among the exhibiting artists. The only boundary the exhibit does have is time—it's only up for the month of November! Wilde Meyer Gallery, 2870 E. Skyline Drive, suite 170. Hours are 10 a.m. to 5:30 p.m. Monday through Saturday, 10 a.m. to 7 p.m. on Thursdays and 1 to 4 p.m. on Sundays. Free.
Details Here.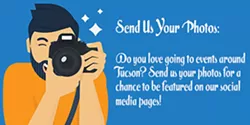 Send Us Your Photos:
If you go to any of the events listed above, snap a quick pic and message it to us for a chance to be featured on our social media sites! Find us on
Twitter
,
Facebook
and
Instagram
@tucsonweekly.
Events compiled by Brianna Lewis, Emily Dieckman, B.S. Eliot and Jeff Gardner.