Next week in Laughing Stock, favorite Tucson storyteller Molly McCoy interviews Maria Bamford, star of the Netflix series Lady Dynamite. Bamford headlines this year's Tucson Comedy Arts Festival, hosted by the Tucson Improv Movement. The fest runs from Wednesday through Saturday, Nov. 7 through 10 at TIM Comedy Theatre, 414 E. 9th Street, between Revel and The Coronet. Bamford performs at the Rialto Theatre at 8 p.m., Saturday, Nov. 10. Tickets are $27 to $34 at rialtotheatre.com. For another $25, you get a pass to the whole festival.
Go ahead and get the $25 pass. Admission is $5 per show, but the pass guarantees a seat for all 36 acts that aren't Maria Bamford. The theatre only holds 45, so you'll want that guarantee to see your favorites. Passes and single-show tickets are at tucsonimprov.com, or you can opt to get your pass with your Bamford ticket.
TCAF 2018 includes an expanded stand-up lineup, and sketch and improv performers from New York, Chicago and Los Angeles, as well as Tucson, Phoenix and Flagstaff. Artistic director Daniel Kirby says, "We try to create opportunities for as many different types of comedy as we can. Diversity was our goal for this year."
Comedian Wynter Spears is one example. A veteran stand-up comic, she began her career in Chicago and now lives the dream in top Los Angeles clubs. She also features regularly at women's comedy festivals, and this year was tapped for The Second City's Diversity in Comedy Festival.
TIM's Como Se Dice bilingual team also recently performed at that festival and is featured in TCAF's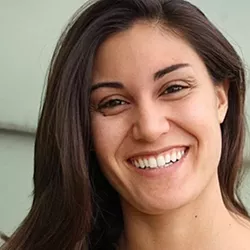 lineup from 9 to 10 p.m., Wednesday, Nov. 7.
The Saturday, Nov. 10 lineup includes former TIM company member and Tucson radio personality Mishell Livio, the creator and executive director of the groundbreaking Hispanic Diversity Ensemble Generation LatinX in Chicago. She improvises with Kate Parker (of iO Chicago's Improvised Jane Austen) as You and Me Against the World.
"Really, all three teams in the (6:30 p.m.) Saturday improv slot will be great," Kirby says. "I am excited to see Brian James O'Connell and Neil Gargulio of The Pack Theater in L.A. They have a specific improv philosophy that I am not familiar with. It's always exciting to see a different style of improv."
O'Connell and Gargulio perform as Garguilo'connell in the Saturday improv show. Rounding out Saturday's lineup is PUMPS, an iO West house team from Los Angeles that may be the most prestigious in TCAF's four-year history.
The fest's extensive standup lineup includes New York comedian, writer and actor Amy Liszka; Motasham, also of New York, winner of the Acme Comedy Company Funniest Person Contest in Minneapolis-St. Paul and among the producers of the 10,000 Laughs Comedy Festival in Minnesota; Los Angeles' Peter Moses and YouTube pioneer Mike Falzone.
Local standup comedian, podcast host and improviser Rich Gary, who placed third in Tucson Weekly's 2018 Best of Tucson Best Comedian poll, rounds out the bill with former Tucsonan Leland Long, now doing standup in New York City.
Kirby says, "Performers from LA and Chicago are bringing both diverse styles of improv and diverse types of performers."
Arizonans to watch include the long-running Phoenix sketch-comedy team, The Cosmonauts, and two new house teams from Unscrewed Theatre, Comic Chaos and Leaky Faucets, which comprises veteran improvisers Walter Temple, Brianna Roy and Adam Lester. The reuniting Tucson improv team Party Barf includes Kirby and TIM founder Justin Lukasewicz, Clare Shelly of the popular, all-female team, The Riveters, and former Tucsonan Brooke Hartnett, now of Chicago, who will also perform with her Chicago team, Mall People.
Laughing Stock especially looks forward to the Tucson debut of Chartreuquoise, a long-form duo comprising Eric Rau, who performs with both Tim and Unscrewed Theatre, and his husband, Cameron, a mainstay with Laughing-Stock-favorite Musical Mayhem. The pair was recently featured at the Red Rocks Comedy Festival.
Phoenix's esteemed Torch Theatre is represented by VerizonQuest, the duo of Marisol Chavez and Jose Gonzales, who both teach at that theater's improv school.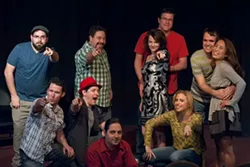 Kirby says the Arizona acts bring particularly strong energy. "I think they want to create a greater, more respected comedy culture in Arizona. With groups from across the state participating, we can all learn from each other and make the Arizona scene richer. What makes TCAF so cool to me is that, especially with improv, we are seeing the evolution of the prevailing comedic sensibility in real time. SNL has pulled cast members from Second City for years, and recently, from other improv comedy theaters like UCB, iO, etc. (But) for example, current SNL cast member Aidy Bryant credits Bill Binder (co-founder of The Torch Theatre in Phoenix) for introducing her to long-form improv. By watching improv and other live comedy today, you can peek into how the comedy arts are changing!"