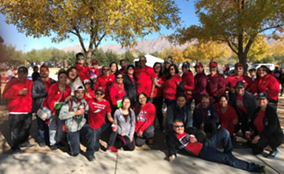 Help bring awareness to liver disease and provide financial support for educational programs and patient services to the millions of Americans battling one of the 100 known liver diseases, on Saturday's Liver Life Walk.
Every walker is provided with sample emails, a personal fundraising page and staff to provide guidance and fundraising (online or through mail) support.
Walkers who raise $100 or more will receive the National Walk Shirt. Walkers who raise $250 or more will receive additional fundraising prizes. The National Silver Sponsor is Salix Pharmaceuticals and the National Partner is CVS Specialty who help by offering product discounts to participants, providing product donations to the event and financial support.
The event features activities for kids, food, entertainment and information about the American Liver Foundation.
More than 10,000 people from across the country come together and raise almost $2 million annually. The event is free, but registration is required either before the event or at the event and there is no fundraising requirement, but walkers are strongly encouraged to raise a minimum of $100.
Form a team of family members, friends or colleagues and walk and fundraise together to make a difference in the fight against liver disease!
Liver Life Walk will take place on Saturday, Nov. 3 at Brandi Fenton Memorial Park from 10 a.m. to 12 p.m. Registration begins at 8:30 a.m.
5 Facts about the American Liver Foundation:

1. Their education programs reached approximately 46,000 people in 2016.
2. They are the leading source of information on liver health and liver disease.
3. Their toll-free National Helpline and 16 divisions across the country provide support to patients, families, caregivers and the public by phone, email and community outreach.
4. Their National Helpline volume doubled in 2016 with nearly 12,000 inquiries.
5. They have provided almost $26 million in research funding to over 840 early career investigators.