Nightmare on Congress St.
Three stages. Four bands. Fifth Avenue. It's all going down even bigger and better than ever, because this year, Hotel Congress is taking over Fifth Avenue and adding a third stage on the street. The hotel will be decked out, and performances by The Michigan Rattlers, Black Mood, Alien Atmosphere, The Surfbroads, RJ RipDee and El Tambo will go late into the night. But the highlight? The insane costume contests with more than $3,000 in prizes. So don't forget to bring your costume—this night, and a lot more than that, could end up paying for itself. 7 p.m. Friday, Oct. 26. Hotel Congress, 311 E. Congress St. $10 GA or $30 VIP. 21+.
Details Here.

Halloween Party at Kartchner Caverns?
What's a spookier venue than a cavern? While you try to think of a suitable answer, head on over to Kartchner this Friday evening for some Halloween fun with the kids. There will be plenty of games, crafts, prizes and chances to learn about Halloween's favorite animal, the bat. And don't forget to dress up! (Seriously, any reason to wear a Halloween costume more than one time is a good enough reason for us.) Entry is $7 per vehicle OR one non-perishable food item for each member of your party, to be donated to the Benson Food Bank. A Halloween with heart! 5 to 7 p.m. Friday, Oct. 26. Kartchner Caverns State Park, 2980 AZ-90, Benson.
Details Here.

Boo at the Zoo 2018.
There's nothing like a stroll through the Egyptian catacombs, or down Scarecrow Alley, or through a good ol' western skele-town to get you in the Halloween spirit. But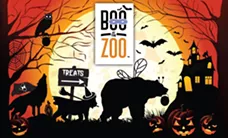 is there a way to access all of those in one night? Yes! You can even do it three nights in a row, if you want. You and your family can stroll through all of the zoo's special Halloween areas and stop to play games and meet your favorite superheroes and princesses, as well as a magical wizard, along the way. Check out the fall zone, the steam punk entourage, the winter wonderland, the Pirates of the Scare-ibbean area and Dr. Z's Mad LAB learning center. Older kids might like the Crandell Glass Scary Loop, and everyone will like the pumpkin patch. 6 to 8 p.m. (with 5:30 p.m. early admission for zoo members). Friday, Oct. 26, through Sunday, Oct. 28. Reid Park Zoo, 3400 Zoo Court. $10 non-members, $8 members, free for kids 2 and under.
Details Here.
Oro Valley's Halloween Spooktacular.
This Oro Valley Community Center tradition is like fine wine, in that it's only gotten better with time. It is not like fine wine in that it is perfect for kids to enjoy. This year, there's hay rides, more food options and accommodations for more than a thousand costumed kiddos. As always, themed activities, costumed staff and a live DJ will also be around to keep the party lively. If you haven't already, get your costume ready now! And maybe get one with a little extra room, because this event has free candy. 5 p.m. Friday, Oct. 26. Oro Valley Community Center, 10555 N. La Cañada Drive. Free.
Details Here.
Gelato Festival Tucson 2018.
This is something special that you will not want to miss if you are a gelato lover, or even just an ice-cream lover. As part of a competition between gelato chefs from around the world, the festival serves as an opportunity to see passionate chefs compete for a chance to participate in the 2021 grand finals in Italy and, ultimately, obtain the title of Gelato Festival World Master. The competition looks to spread the culture of artisan Italian gelato and offers guests a selection of high-quality gelato, with tasting to vote for a favorite flavor. Noon to 7 p.m. Saturday, Oct. 27, and Sunday, Oct. 28. 2905 E. Skyline Drive.
Details Here.

Casino Del Sol: Oktoberfest.
Have you been enjoying Oktoberfest events already and want to get a last one in before October is over? Or have you not been to one yet and still want to get to one? Casino Del Sol is hosting their own Oktoberfest in the AVA Amphitheater including live music, contests, food and beer. Noon to 9 p.m. Saturday, Oct. 27. 5655 W. Valencia Road. 21+
Details Here.

Feast with the Dearly Departed.
Tucson Botanical Gardens is celebrating Dia de los Muertos and Mexican-American culture with a feast with the dearly departed. It's a day to honor loved ones with personal offerings and mementos; live music, food, drinks, storytelling, face painting and children's activities will be available. The garden will be filled with dancing skeletons and more. 5:30 to 8:30 p.m. Saturday, Oct. 27. 2150 N. Alvernon Way.
Details Here.

Halloween Block Party!
Who will you choose to represent in the battle of good against evil? In this fun street event, choose to dress up as a good or evil creature and possibly win a cash prize. O'Malleys & The Hut are putting together another block party with four DJs, live bands, food trucks and a costume contest with more than $1,000 in cash prizes. 7 p.m. to 2 a.m. Saturday, Oct. 27. 305 N. Fourth Ave. 21+
Rockabilly & Blues BBQ.
In its debut version of the event, Loews Ventana Canyon Resort will entertain their guests with a night under the stars with live bands, Harleys, hotrods, local craft beer, contests, costumes, games, prizes and delicious BBQ. The event will begin at the Ventana Golf Course but will then take you to the Coyote Corral for the main event. 6:15 to 9:30 p.m. Saturday, Oct. 27. 7000 N. Resort Drive. $40. 21+
Details Here.
The Art of Plating.
This event takes food and plating and combine them for a unique event. Taking place inside the Copenhagen Furniture Store, guests will get to experience fine wines, artfully plated dishes and live music. Each guests will get to travel from station to station to meet some of Tucson's top chefs and see how they plate small versions of each dish—and sample it, too! Guests will vote on their favorite station in the People's Choice Awards. 6 to 8 p.m. Saturday, Oct. 27. 3660 E. Fort Lowell Road. $75
Details Here.

Lights! Camera! Pops!
Not really into classical music, but want to be the kind of person who goes to the symphony? This is the night for you. The Tucson Symphony Orchestra will be playing film scores from hits ranging from the 1930s to some of the biggest recent blockbusters. We're talkin' Star Trek, Gone With The Wind, Indiana Jones, On Golden Pond and (of course!) Jaws. Composers will range from Korngold to Steiner to Dave Grusin to John Williams, and TSO's much-loved former music director, Bob Bernhardt, will be returning to conduct all of the action. Get ready to get nostalgic! 7:30 p.m. on Saturday, Oct. 27, and 2 p.m. on Sunday, Oct. 28. Tucson Music Hall, 260 S. Church Ave. $15 to $78.
Details Here.

Mount Lemmon Gravel Grinder.
If you're the type of person who doesn't think the phrase "gravel grinder" necessarily has a nice ring to it, we are not judging you—we think it sounds scary too. But if you are the kind of person who enjoys taking 40-, 50- or 60-mile bike rides up the "back side" of the Santa Catalina Mountains along the gravel road that connects Oracle to Summerhaven, you won't want to miss this. You'll challenge yourself mentally and physically, and then—hopefully—you'll reward yourself for a job well done with a day full of festivities, food and drinks at the YMCA-Triangle Y Ranch. This is the third annual iteration of this event, and the first year they've added a fun ride and kids' race. 60 Grind starts at 7:10 a.m., 50 Grind starts at 7:15, 40 Grind starts at 7:20, Fun Ride starts at 8:30 and the Kids' Race starts at 9. Saturday, Oct. 27. YMCA – Triangle Ranch Camp, 34434 S. Y Camp Road, Oracle. $50 to $60.
Details Here.
GLOWeen!
It's the final GLOW! event of the season, so find your most glowing ghoul costume and
head over to the Triangle L. Ranch to get your illumination on one last time. Beautiful art pieces will be lighting up the paths of the event, but if you do your part, you'll be lighting it up too! The Oracle Art Ensemble and hypnopad will be providing music on the paths, and the Kings of Pleasure will provide music on the mainstage from 9 to 11 p.m. Laurel Wilson will be performing "Death Wears a Miniskirt," and everyone who's anyone will be participating in the costume contest! Plus, performances by Circus Amperion, tarot card readings by Felicitas and Chad and food and (non-alcoholic) drinks available all night! 7 to 11 p.m. Saturday, Oct. 27. Triangle L Ranch, 2805 N. Triangle L Ranch Road, Oracle. $21.44 adults 13 and up, $12.86 kids 4 to 12 and free for kids 3 and under.
Details Here.
Hooligan's Horror Halloween Ball.
Flam Chen, Tucson's very own society of fearless fire dancers, is hosting a Halloween party for people who aren't quite fearless fire dancers themselves, but who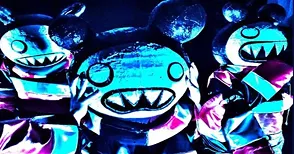 sure do enjoy watching it. Wear a mask to this masquerade ball and you'll fit right in with Flam Chen's masked performers, the Hooligans, and their cast of creepy characters like the fire dancing twisted sisters, ravenous aerial arachnids and the blood thirsty rabid DJ VAMPYRAT. Dranx and Fun will perform as guest artists. They're billing it as the best Halloween party EVER, and it certainly sounds like it's going to be one for the books. 9 p.m. to 1 a.m. Saturday, Oct. 27. MSA Annex, 267 Avenida del Convento. $20 at the door, but $15 if you're in costume, so don't be lame.
Details Here.
Freddy's Friday Night Cruise-In & Car Show Trunk or Treat.
What could make a car show full of some of the most gorgeous vehicles in town, in the cool fall weather, even better? How about candy? The Freddy's Car Show, which happens the last Saturday of every month, is having an extra-special car show this week, in which everyone who brings a car is asked to participate in handing out candy, and everyone who attends the free show can trunk-or-treat their way through the lines of cars. Decorate your car, truck, bike or SUV. And most importantly, decorate yourself in your Halloween costume! Car show is 4 to 9 p.m., and trunk-or-treating starts at 5:30 p.m. Saturday, Oct. 27. Freddy's/Native Parking lot, 11143 N. Oracle Road. $10 registration for vehicles, free to trunk-or-treat.
Details Here.

Wildcats Football.
Do you like watching college football at an ungodly hour of the night with teams wearing toxic colored uniforms? If so, then you're in luck, as the Arizona Wildcats will host the University of Oregon Ducks at Arizona Stadium this Saturday, Oct. 27. The game, which kicks off at 7:30 p.m., pits the Ducks high-powered offense, led by Heisman Trophy candidate QB Justin Herbert, against Arizona's bipolar defense that features future NFL linebackers Colin Schooler and Kylan Wilborn. This week's contest is Arizona's homecoming game, which means there's sure to be fireworks in the sky during the game, even if the on-field fireworks are kept to a minimum by the Ducks' staunch defense.
Details Here.

Five Awake.
In honor of Domestic Violence Awareness Month, the Murphy-Wilmot Library is screening this documentary that tells the story of five women in Louisiana who set out to strengthen their state's domestic violence prevention laws. The event, sponsored by Gun Violence Prevention Arizona, will also include a panel of community leaders discussing the ways we can reduce domestic violence in our own community. You'll hear from Anna Harper-Guerrero, executive VP of Emerge; Assistant Chief Carla Johnson of the Tucson Police Department; Judge Wendy Million of Tucson Domestic Violence Court; Tami Sanchez, lead victim advocate for the Pima County Attorney's Office; and Senator David Bradley, representing LD10. 2 p.m. Saturday, Oct. 27. Murphy-Wilot Library, 530 N. Wilmot Road. Free. Details Here.
Grapes to Glass Art & Wine Festival.
Maynards Market & Kitchen is hosting its fourth annual Grapes to Glass. This event brings together local wines, delicious food, live music, crafts, and regional artwork in a nice venue for wine enthusiasts. In close proximity to Tucson's Historic Train Depot, the event combines craft and pleasure. 3 to 6 p.m. Sunday, Oct. 28. 400 N. Toole Ave. $30
Details Here.

Spooky Kids Halloween & Wag-O-Ween.
It will be hard to find a cuter event. Along with cute children dressing up in their favorite Halloween costumes, we will be getting dogs also dressed up in their favorite Halloween costume. On top of that, it's a great chance to enjoy a meal or drink on Tucson's historic Fourth Avenue. The pet costume contest will take place at 4 p.m. and then the children costume contest will happen at 6 p.m, both at the Sky and Sand parking lot. Candy and dog treats will be distributed all throughout the event. 4 to 8 p.m. Sunday, Oct. 28. Fourth Ave.
Details Here.

Presto!
An Afternoon of Magic, Comedy and Illusion. Tucson is always surprising us with what it has to offer. For example, did you know that we have two of our very own international award-winning illusionists, John Shyrock and Mari Lynn? They're teaming up with magician/comedian John George for an afternoon of wonder, high-energy and lots and lots of laughter. They've performed hundreds of sold-out shows together over the last decade, and now's your turn to get in on the magic. Have you ever gone to see a kick-ass magic show on a Sunday afternoon and regretted it? We didn't think so. Get your tickets now. 2 p.m. Sunday, Oct. 28. Gaslight Music Hall, 13005 N. Oracle Road, Oro Valley. $25, with discounts for kids, students, seniors and military.
Details Here.
The Green Valley Concert Band outdoor concert
. Live music always has a certain power to it. But put a concert underneath a Tucson sunset, and you're really in for a treat. The band is playing as part of the city's Joy of Music: Emotion and Variety series, and they'll have a few seasonally and regionally appropriate delights. Keep an ear out for some spooky Halloween sounds, and stay vigilant so you don't miss the cowboy singalong opportunity. All are welcome! 5 p.m. Sunday, Oct. 28. Historic Canoa Ranch, 5375 I-19 Frontage Road, Green Valley. $10 suggested donation.
Details Here.
Ballet Folklorico Tapatio.
Ballet Folklorico Tapatio is celebrating 21 years with this anniversary concert. Just in case you haven't been around Tucson for quite that long, this nonprofit dance group gives kids and young adults the opportunity to learn about Mexican culture and history through dance, and to find their confidence and sense of self-esteem while they do it. They've done a pretty darn good job of building a sense of community over the past couple of decades, and it shows—they'll have more than 150 dancers onstage for this event. Local art, local community and a stage lit up with passion? Why would you miss it? 2 p.m. Sunday, Oct. 28. Tucson Convention Center, 260 S. Church Ave. $18.
Details Here.

TMC Get Moving Half-Marathon, 5K and FitKidz Mile.
This event not only has a variety of distances to choose from, but it has a huge variety of ways to celebrate after you're done with your race up Sentinel Peak and though downtown. We're talking a vendor expo, a jumping castle for the kids and even a breakfast-after party. Plus, of course, plenty of local bands playing live music to keep you going. There's prizes for top runners within each age group, and plenty of food trucks and post-race snacks to keep you going. Proceeds will help fund local organizations like the Watershed Management group and Team Hoyt Arizona. Early start for the half marathon is at 5:45 a.m. and regular start is at 6:30 a.m. 5K begins at 8 a.m. and FitKidz mile begins at 9 a.m. Sunday, Oct. 28. Jacome Plaza, 115 N. Church. Half-marathon is $75, 5K is $40 and the FitKidz mile is free.
Details Here.

Spooktacular Sunday at Flandrau.
Whether you have kids who love flashing lights or you know you'll be nursing a Saturday-night-Halloween-party-hangover and want to be in a cool, dark, wonderful place, the Flandrau Science Center and Planetarium has got you covered with an afternoon of special, Spooktacular programming the Sunday before Halloween. Perfect Little Planet, which takes younger audiences on a tour of our solar system from the perspective of a family visiting from another star system, is at 1 p.m. A Frightlights Halloween Laser Show is showing at both 2 p.m. and 4 p.m., and is perfect for anyone who likes Halloween and fun. And We Are Stars, an animated show about cosmic chemistry also geared toward younger audiences, is showing at 4 p.m. Sunday, Oct. 28. Flandrau Science Center & Planetarium, 1601 E. University Blvd. Flandrau admission is $16 adults and $12 for kids 4 to 17, senior, military and college students with ID, and additional shows are $3 each. Tickets can't be purchased in advance, but they can be reserved at 621-4516 and if you show up 15-20 minutes early to claim them.
Details Here.


Send Us Your Photos:
If you go to any of the events listed above, snap a quick pic and message it to us for a chance to be featured on our social media sites! Find us on
Twitter
,
Facebook
and
Instagram
@tucsonweekly.

Events compiled by Brianna Lewis, Emily Dieckman, B.S. Eliot, Ava Garcia and Jeff Gardner.