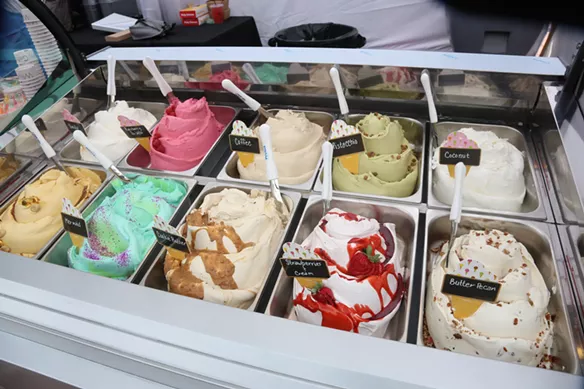 Tuscany's Gelato Festival returns to America by visiting seven different cities including Tucson on Saturday, Oct. 27 from 12 to 8 p.m. and Sunday, Oct. 28 from 12 to 7p.m.
So far, the Festival has toured six different cities around the country including Jersey City in New Jersey, Chicago, Washington D.C., Dallas, Santa Barbara and Scottsdale.
As part of the festival, the gelato chefs will have gone through a selection process for the competition. The winners in the festival will compete again for the three best American gelato chefs and will be part of the top 36 gelato chefs in the world.
In the 2017 Gelato Festival, there were nearly 40,000 visitors and 50 gelato makers. The chefs competed and showcased their gelato flavors to produce over 13,000 pounds of gelato.
Some events at this year's gelato festival feature the Gelato School, where award-winning gelato artisans will share information about being a gelato chef. There will also be a Gelato Eating Contest, where five people will eat five cups of gelato and the fastest will win a gallon of gelato.
For kids, there will be a Kid's Jury, where kids will have the opportunity to ask the chefs questions and vote on their favorite flavors.
Danielle Palazzoni, the General Manager of the Gelato Festival America, said that the festival had a huge success all over Europe and in its first festival held in America last year.
"We realize that Americans really do love gelato," Palazzoni said. "It is our goal to make certain that every American gets to taste what real Italian gelato is like and to spread the culture of artisan Italian gelato throughout the world's largest consumer market for frozen desserts."
Tickets for the festival will be sold at $30 for adults, $25 for seniors (65+), $25 for children (3 to 12 years old) and free for children under two years old. Purchase tickets online in advance to receive a discounted price.
To purchase tickets visit : gelatofestivalamerica.com/ticket