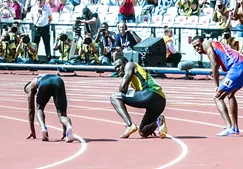 When you think of athletes that have professionally succeeded in more than one sport, you think of Bo Jackson, Deion Sanders or Jim Thorpe. But what about Usain Bolt?
Everyone knows the Jamaican athlete for his historic and relentless dominance of the 100m sprint category over the past decade, but did you know that he has now scored a couple of goals for a professional Australian soccer club?
That's right! Bolt, legendary Jamaican sprinter, scored two goals in his first start for the Central Coast Mariners and helped them to victory in a friendly game 4-0 win over Macarthur South West United on Friday.
Bolt was practically gifted his second goal after miscommunication between Macarthur South West's goalkeeper and defender set him up for a tap-in in front of the empty net. His first goal, however, showed more of how his speed could translate into a deadly weapon for a striker in soccer. For the first goal, Bolt was able to outrun and outmuscle the defender to a through-ball, before impressively and cleanly slotting the ball past the goalkeeper with his left foot. It wasn't the easiest shot to finish either.
Bolt became vocal about his desire to play professional soccer after his retirement from athletics in 2016, noting Manchester United as a dream location. He has since participated in several trials with different levels of teams, including Borrusia Dortmund in Germany and Strømsgodset in Norway.
The Jamaican has been training with the Australian side since his 32nd birthday, on Aug. 21, but currently does not have a professional contract with the team. Hopefully his performance against Macarthur South West can help him kick start his professional soccer career and become a part of the elite group of athletes to play two sports professionally.
Tags: Usain Bolt , track , fastest man , soccer , athlete , olympics , Image