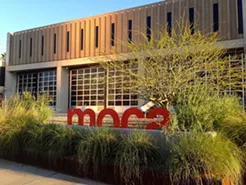 Free Third Thursdays at MOCA.
In Tucson, third Thursdays are for contemporary art. Because every third Thursday, the museum is open free to the public from 6 to 8 p.m. for a special art-making activity. This month, visitors can build their very own "pocket shrines" or little miniature altars, with the help of DIRT (Alan Dickson and Taylor Garcia Dickson). These little devotional pieces are meant to be personalized with little object like candles, oracles or photographs. So, while the museum will be providing a variety of supplies, you should definitely bring some stuff from home to make the piece your own. A picture of a deceased loved one? A dried flower petal from your wedding? A photo of a hot celebrity cut out of a magazine? Up to you. DIRT will also be doing free one-card tarot readings, and the night also offers music, a cash bar and food trucks. 6 to 8 p.m. Thursday, Oct. 18. Tucson Museum of Contemporary Art, 265 S. Church Ave.
Details Here.

MEN on BOATS by Jaclyn Backhaus.
They say truth is stranger than fiction, and that's pretty evident when you consider what this play is based on: an 1869 expedition led by a one-armed captain and a crew of crazy volunteers who head out to chart the course of the Colorado River, and to discover the Grand Canyon. In Backhaus' theatrical adaptation of this, she genderbends the story—all of the characters are women, and the events in the play, like so many facts today, are "mostly true." It's gone over well so far, receiving a Kilroys 2015 playlist choice for one of the best plays by women and being named a NYT Critics' Pick. Why not check out this production by Something Something Theatre Company? 7:30 p.m. Thursdays through Sundays in October and 2 p.m. on Sundays in October. Temple Cabaret, 330 S. Scott Ave. $25, or $20 for students, seniors, teachers and military. Thursday, Oct. 18, and Thursday, Oct. 25, are "pay what you decide" nights.
Details Here.
UA 6th Annual Downtown Series: Soundscapes
Brought to you by the UA School of Social and Behavioral Sciences and hosted by Fox Tucson Theatre, they present to you visual aspects of music culture and the role of urban youth when it comes to shaping cross-culture and identity. Maurice Rafael Magaña will discuss a series of topics relating to art and music. From art in public spaces to cultures crossing borders and working together, he proves that the music and art scene is an important aspect in many different people's lives. He will focus on youth and the way they use artistic and musical abilities to speak up about their identities and struggles; particularly across the border of Mexico. Fox Tucson Theatre, 17 W. Congress Street. 6:30 p.m.
Details Here.


Send Us Your Photos:
If you go to any of the events listed above, snap a quick pic and message it to us for a chance to be featured on our social media sites! Find us on
Twitter
,
Facebook
and
Instagram
@tucsonweekly.

Events compiled by Brianna Lewis, Emily Dieckman, B.S. Eliot, Ava Garcia and Jeff Gardner.