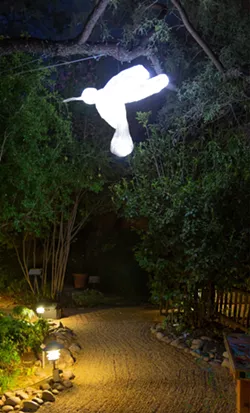 Luminous at Tucson Botanical Gardens
. It's difficult to imagine a place more charming than the Tucson Botanical Gardens. But how about the Tucson Botanical Gardens at night, with illuminated sculptures based on the flora and fauna of the Sonoran Desert? Even better. Artist Mykl Wells handmade these beautiful lanterns especially for our local gardens to celebrate the diversity of life in our desert. It's going to be the sort of night where you'll leave overwhelmed by how much you learned and ecstatic over all of the beautiful, twinkly lights all at once. Luminous hours are 5:30 to 8:30 p.m. through Jan. 6. Tucson Botanical Gardens, 2150 N. Alvernon Way. $15 adults, $8 kids 4 to 17 and free for kids 3 and under. Members: $8 adults, $4 kids 4 to 17 and free for kids 3 and under.
Details Here.
Magic at the Mortuary.
Magic Kenny Bang Bang has been spending all year creating the spookiest, most magical show possible for Tucson, and now that October is here, he can finally deliver! Magic Kenny and the bewitching Ms. Midnight are presenting their intimate, parlor-style magic performance at Owl's Club every Wednesday throughout October. Enjoy the magic show, then take a tour of the former Bring's Funeral Home embalming room and listen to some spooky stories about Tucson. What do you have to do on a Wednesday night that is more fun or important or timely than a macabre magic show? Every Wednesday throughout October at 6, 7, 8 and 9 p.m. Owl's Club, 236 S. Scott Ave. $20, 21+.
Details Here.

C
ontrary History and Santa Cruz Valley Myths.
Enjoy learning the truths and tales of the Santa Cruz Valley. Former president of the Tucson Presidio Trust for Historic Preservation, Rick Collins, is now a National Park Service Ranger. He will be guiding you all through the history and legends of the Santa Cruz Valley. The event is free but reservations are required. 12 pm. and 2 p.m. 12880 N. Vistoso Village Dr.
Details Here.


Send Us Your Photos:
If you go to any of the events listed above, snap a quick pic and tag us for a chance to be featured on our social media sites! Find us on
Twitter
,
Facebook
and
Instagram
@tucsonweekly.

Events compiled by Brianna Lewis, Emily Dieckman, B.S. Eliot, Ava Garcia and Jeff Gardner.