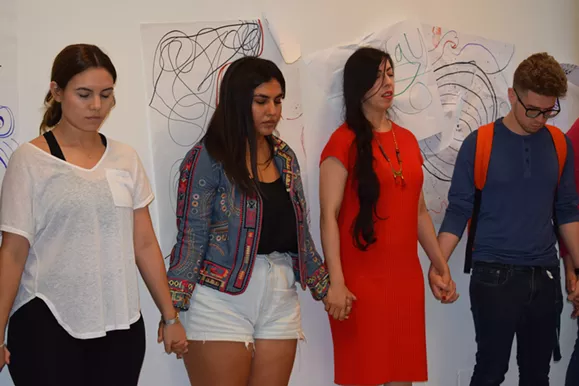 In Spanish the word encuentro means to meet together. Binational Encuentro: Female Migrations is a multi-day event that showcases 18 different artists and activists from Tucson, Phoenix, Douglas and Mexico City. The event provides artistic workshops, discussions and performances to address migrant issues such as gender violence when crossing the border.
Sadie Shaw is one of the artists contributing this year and is currently a student in Art and Visual Culture Education at the University of Arizona. Shaw uses her art to convey issues relating to racial identities and underlying cultural prejudices.
"It's the artist's responsibility to not only create beauty, but to also showcase things that are painful or ugly to look at or feel," she said. "In this way, art can elevate the community."
Shaw held a workshop called Universal Sign Language Game, on Thursday, Oct. 11, that encouraged people to break the barrier of spoken language. The workshop encouraged participants to communicate with each other through hand motions, laughter and facial expressions.
"I wanted to show people that even if you don't speak a certain language, you can usually communicate words or ideas without speaking," Shaw said. "The workshop showed that even through migration, all humans can understand body language, and its not much of an obstacle as we perceive it to be."
Melissa Martinez, a psychology student at the UA, attended Shaw's workshop and said she agrees that language doesn't have to be a communication barrier. She said that in terms of immigration issues, people can still communicate with others of different cultures in a way that is understanding and not prejudiced.
The performances and workshops provided spaces for people to educate and discuss gender violence, specifically towards women, along the U.S. Mexican Border.
Trayce Peterson, co-founder of Split Seed Productions and co-producer of Binational Encuentro, said it's important for the community to see that art provides a different way of discussing difficult topics. She said that Encuentro highlights the violence that many migrant women face and the fact that many of these women have no resources to help them through sexual and physical violence experienced at the border.
"The women who are making this journey are extremely resilient," Peterson said. "Often, we think about the migrant as the victim, but the migrant is also a person who has an incredible amount of strength."
Peterson believes that Encuentro, at its roots, helps destroy a narrow understanding of what it means to be a migrant. By providing artist performances, it allows the community to engage, listen and learn from one another.
Violeta Luna is a performance artist and activist. She is also an immigrant from Mexico City and currently lives in San Francisco. Through her career, she has taught and performed workshops in different countries throughout Latin America and Europe.
Luna taught a workshop called The Body in Action: Paths Towards A Personal Cartography. The workshop allowed participants to think about individual and social understanding of gender, sexuality and race.
"The performances show that immigrants are much more than the stereotypes and labels of 'criminals' or 'dangerous,'" Luna said. "By being creative, we can create a different narrative for migrants."
Luna also participated in the Reimaging Border Experience and Place roundtable discussion on Friday morning. Her main performance is called Parting Memories, which will include other artists, dance, poetry and video elements on Saturday, Oct.13 at 7 p.m.
On Sunday, Oct. 14, many of the artists will collaborate in a simultaneous performance along both sides of the U.S. Mexican Border wall in Douglas, Arizona and Sonora, Mexico. The performance is meant to show a perspective that can shift pre-existing views on migration in the Southwest.
The final performance of Binational Encuentro will feature 11 artists in an event called, Encuentros Around Us, on Friday, Oct. 19 in the MSA Annex at 6:30 p.m.
For more information about all the Binational Encuentro events, go to binationalencuentro.org.