At this weekend's Tucson Meet Yourself Festival, the Food Justice Expo will be featuring different organizations, food businesses and non profits from Southern Arizona. Through sampling, interactive displays and demonstrations, the expo will shed light on the many food initiatives that Tucson has to offer.
The Food Justice Expo is a partnership between Tucson City of Gastronomy and Southwest Folklife Alliance. Tucson was selected to be the first UNESCO City of Gastronomy in the United States due to the region's agricultural history and vibrant culinary scene.
Erik Stanford, who works for Tucson City of Gastronomy and is the coordinator of the Food Justice Expo, said that the intention of the expo is to highlight food justice organizations and their initiatives in Tucson.
Organizations like Compost Cats will be working with food waste activism and an organization called Tierra Y Libertad that works to improve food access in Southside neighborhoods will also be at the festival.
There will be 13 different food justice organizations that will be represented throughout the weekend of the festival including Mission Garden, Café 54, Community Food Bank, L.O.C.A.S and Felicia's Farm.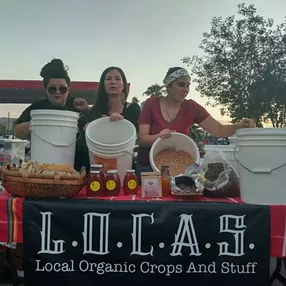 Café 54, a non-profit training program in addition to being a restaurant, will be one of the local food businesses featured at the Food Justice Expo. The café is a program of Coyote TaskForce, which is an employment-training program for adults recovering from mental illness.
Joanna Kyl, a development coordinator for Coyote TaskForce through Café 54, said that the café will offer samples of the their signature rosemary rolls and will be teaching their trainees bread making at the Tucson Meet Yourself festival.
"I think the event will do a great job of showing the incredible resources that Tucson offers and will bring attention to the culture and culinary diversity in Tucson as well," Kyl said.
Visit the Tucson Meet Yourself Festival and the Food Justice Expo this weekend Friday, Oct. 12, Saturday, Oct. 13, and Sunday Oct. 14.
For more information about the Tucson Meet Yourself Festival
click here.