The annual Tucson Meet Yourself Folklife Festival will be hosting 56 food booths this year, each representing different nationalities of food. Attendees can find food for under $12 a plate.
According to TMY Lead Folklorist Maribel Alvarez, many of the vendors come from churches, clubs and community groups and the food they cook and sell represents their cultures and traditions. TMY keeps their costs low and helps out with organization to ensure success at the festival. As this is the largest grassroots entrepreneurial event in Tucson, it is a great opportunity for all vendors.
The newest additions to the food vendor group for TMY 2018 include the following:
San Xavier Cooperative Farm, Tohono O'odham Native Foods:
Representing the Tohono O'odham people who have been native agriculturists for the last 4,000 years, this vendor will be serving authentic Native American food. This includes cholla bud salsa, tepary beans, kaiwus, and much more.
Learn More.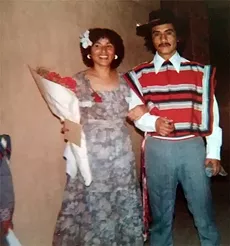 Holy Toledo Catering:

Although his restaurant, Holy Toledo, only serves Pizza and Tacos, when he is catering Chef Toledo is able to make many other unique items. At TMY he will be serving, mole, a traditional Oaxacan dish.
Learn More.


La Fondita Chilena:

Yamila El-Khayat is bringing back her mothers traditional Chilean cuisine. El-Khayat grew up watching her mother sell her traditional dishes at TMY when she was a child. This year El-Khayat and her husband are bringing the back tradition in their own way. They will be serving empanadas, humitas and chilean salad.
Learn More.


BK's Tacos:

A popular Tucson Restaurant, BK Tacos will be featuring their award winning Sonoran hot dog, carne asada tacos and caramelos. Its unique preparation has been quite the hit, they cook it to perfection over a mesquite fire, giving it a flavor fusion.
Learn More.


Solid Grindz Hawaiian Food Restaurant & Food Truck:

Starting out as a food truck on Davis Monthan Air Force Base, Solid Grindz quickly gained a large following. A short two years later the owners opened an authentic Hawaiian and Polynesian restaurant. A mix of their Hawaiian and Polynesian cuisine will be at TMY.
Learn More.


Off-the-Hook Seafood:

Matthew Kearney first started Off-the-Hook to
remember
a taste of home, New England, but also decided to add a Southern twist. For those of you who are looking to taste the flavor of New England, you will be guaranteed to get it at TMY.
Nur Market and Restaurant:
Started by three refugee brothers from Somalia in 1990, they bring a taste from home. While the market started in 2008, the brothers added a
restaurant
in 2010. They serve a variety of food that will take you out of your comfort zone. They will be serving lamb, goat, chicken, fish, shawarma and sambusa.
Learn More.

Masri:
An authentic Egyptian cuisine, offering Koshary, a national dish in Egypt, which is a Vegan dish including rice, pasta, onions and much more. You will not find this dish anywhere else as it is a top secret family recipe.