Today a friend asked what my favorite book of poetry is or who I would call my favorite poet.
As someone who minored in poetry in university, I was baffled and somewhat saddened at my own lack of response, lack of ability to pin down a favorite, or even a couple of favorites, from four years of study.
And so I went home, sat on the carpet next to my bookshelf and set out to reacquaint myself with the much thumbed and sticky-note covered volumes I have collected over the years from classes, bookstores and friends, and I settled on some favorites, well, sort of, there are 11 books.
Who should care what the favorite books of poetry from a random local journalist are? Well, no one really, but in case you are like me and are always on the hunt to find a way to narrow down the seemingly never-ending pile of poetry out there to be read, this might give you a few recommendations of where to start.
After much narrowing down, here are three that are my absolute favorites from my bookshelf:
Green Ash, Red Maple, Black Gum New Poems by Michael Waters.

I bought this thin book from a second-hand music store in Denver on a windy summer afternoon and then settled in at the far-too-hipster coffee shop with a seriously strong $6 cold brew and read the thing cover to cover.
This is a sensual book following the story of a man (potentially the author) and his many love affairs. While the poems tap into oft-used and cliched descriptions of women's beautiful hair and soft skin, they also encourage the reader to engage with their imperfections. Loss plays as much of a role in Waters' love stories as does falling in love, and so the cycle continues forward. As the name indicates, there are also many references to specific trees and flowers throughout the book, grounding the metaphors while at the same time making them flowery and intriguing. While some of the poems stick to airy language that is the cause of so many people who say, "I hate poetry, it doesn't make any sense," there are others that drop all pretense and speak in plain text. One poem starts, "These winter trees charcoaled against bare sky," and you can see where that one's going. Yet another starts, "The Sunday I blew sixty dollars on a taxi," and continues on with a much more accessible poem. If you do read this book, keep an eye out for "Whitefish," a poem that stands out from the rest and was my favorite of the 73 pages.
New American Best Friend by Olivia Gatwood

Not only did this poet come to Tucson a couple of weeks ago and perform at 191 Toole, her book is also published by Button Poetry, a publishing house from which I often find books that I love. This book is not for the close-minded or prudish reader, as the poems dive head first into topics such as period blood, sex, resting bitch face and other sticky trials and tribulations of growing up.
At her performance she resonated with a young crowd, with notably more people sitting in the under-21 section than the older crew in the back. Dressed in black and white yet explaining how much she loves the color pink, Gatwood performed poems from
New American Best Friend
along with poems from her upcoming projects. Gatwood performed alongside Joaquina Mertz who's haunting and rich voice filled the small venue and spilled out, with walkers-by stopping on the sidewalk outside to peer in. My recommendation? Read this book and listen to Mertz's music.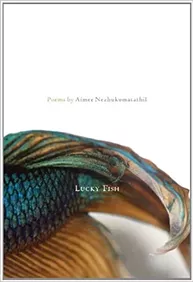 Lucky Fish by Aimee Nezhukumatathil

This poet's last name is a mouthful, and when I saw her read at the University of Arizona Poetry Center in 2017, she spent a good five minutes comically explaining how to say it. This book,
Lucky Fish,
is her third published book of poetry. Mixing the mundane with the magical, this book takes the reader on a journey both throughout their imagination and throughout the pages. Initial poems in the book reference poems that come later in the pages making the book a fun Easter-egg-filled puzzle to read and work through. The poet explores themes of motherhood, nature, food and science. She also experiments with different forms throughout the book, including many list poems and poems that are almost entirely written in the footnotes. This book tackles contemporary stylistic boundaries without venturing so far off the beaten path that it becomes unaccessible. One poem that takes much more time to contemplate than it does to read, is the five-word poem titled "How to be a poet." Look for it on page 34 of
Lucky Fish.


Do you have recommendations of books of poetry to read? Write them in the comments!
Tags: poetry , recommendations , books to read , literature , poems , poets , authors , recommended , Image