Eat, Drink, & Be Giving.
"Making a difference never tasted so good!" Support local non-profits AZYP, GAP and ICS on a night filled with food samplings from local restaurants, breweries and wineries, live music and a silent auction at the Plaza Colonial. At the end of the night, the three nonprofit CEOs will compete in a friendly "Grape Stomp for a Cause" to help raise money and cycle out poverty from our communities. 6:30 to 9:30 p.m. Friday Oct. 5. 2870 E. Skyline Drive. $40.
Details Here.
Modernism Market Opening Night Gala.
Modernism Week is upon us, and the Midtown Mercantile Merchants are getting in on the act with a 10-day modernism market through Sunday, Oct. 14. And they're kicking it off the only way that makes sense: with a fancy schmancy gala. Enjoy refreshments among mid-century furniture, home accessories, vintage clothing and jewelry, antique lighting fixtures, a wide variety of collectibles and more. The market itself attracts dealers and vendors from all over the country, for a marvelous array of all things modern. 5 to 8 p.m. Friday, Oct. 5. 4443 E. Speedway.
Details Here.

Monster Mash.
Are you the type of person who started telling people "Happy Halloween!" on Sept. 1? Then take comfort in the fact that you don't have to wait until actual Halloween to start celebrating the season. Oro Valley's got spooky carnival games, a scary movie scavenger hunt, a cartoon-themed spooky maze and a candy corn ring toss. You can also decorate pumpkins, guess their weight and take a haunted hayride! Chow down at a food truck, get your face painted so you'll look cool in the photo booth and chug down some witches brew (aka root beer). Although, if you decide to participate in the "Not Just Another 5K" event at 6 p.m., maybe wait to indulge until afterward. 5:30 to 9 p.m. Friday, Oct. 5. Steam Pump Ranch, 10901 N. Oracle Road. Free entry.
Details Here.

SAHBA Home & Garden Show. You want a new pool, a chance to look at new driveway and garage options or a sampling of kitchen and bathroom remodeling ideas? How about just some wall art, lotion or candles? You definitely want to buy a pool if you're living in Tucson, right? You can get all of this and more at the SAHBA Home Show, where dreams become reality and bland living rooms
become home to exotic throw pillows. Appliances! Linens! Beds! Building and cabinet materials!
Fashion! General contracting! Landscaping, solar and wrought iron! Financial services to help you figure out how to pay for all of it! 10 a.m. to 6 p.m. Friday, Oct. 5 and Saturday, Oct. 6 and 10 a.m. to 5 p.m. Sunday, Oct. 7. Tucson Community Center, 260 S Church Ave. $8 adults, free for kids 12 and under, discounts for military and seniors. Check sahbahomeshow.com for a $2-off coupon. Details Here.

Industrial Accident:
The Story of Wax Trax! Records.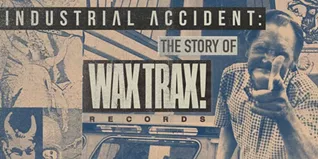 For the opening night of the Tucson Film & Music Festival, The Screening Room is showing a documentary about a Chicago Record Store and Label that was as influential to punk as you can get. Wax Trax! Featured iconic artists such as Coil and Ian Mackaye. The documentary features interviews with members of Bauhaus, Nine Inch Nails, Ministry, Foo Fighters, Throbbing Gristle and more. 7:30 to 9:30 p.m. Friday, Oct. 5. 127 E. Congress St. $9
Details Here.

Stand By Me.
One of the few Stephen King movies without horror elements, this coming-of-age classic examines a few days in the life of some 12-year-olds on a hike. Featuring an '80s pre-all-star cast of Wil Wheaton, River Phoenix, Corey Feldman and Jerry O'Connell, this movie is necessary viewing for damn-near everyone. The Loft Cinema invites you on the adventure of a boyhood. 10 p.m. Friday and Saturday, Oct. 5-6. 3233 E. Speedway Blvd. $6.
Details Here.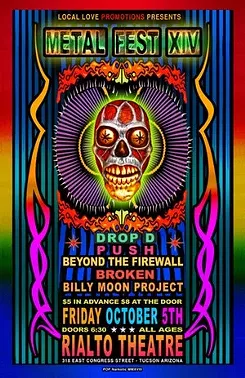 Metal Fest XIV featuring Broken.
Broken laces the aggressive precision of old metal with the catchy, uplifting choruses of the nu, through heavy, frog-ass tight musicianship. Hailing from Wakefield, U.K., Broken has absorbed American rock influences: the intelligent lyrics of Lamb of God, the operatic melodies of System of a Down and the unbridled energy of Limp Bizkit. But the way this talented quintet blends those disparate influences together is original and stunning. The rapid-fire double bass pedal and rat-a-tat snare work by drummer Mark Greenwood is as precise and memorable as Metallica's "One"—on every single track. The dueling guitars go chugga-chugga too, and wind serpentine around one another, with the flying-V leading the charge. And Fraser James and Paul Johnson somehow sample the U.S.'s worst ever musical contribution—rap metal—without lapsing into parody. Broken plays metal because they have to—and that passion and catharsis is contagious. With Drop D, Push, Beyond the Firewall, and The Billy Moon Project, Friday, Oct. 5. Rialto Theatre, 318 E. Congress. Doors at 6:30 p.m. $5-$8, All ages.
Details Here.
Desert Foods Fiesta!
Want to learn about the fundamentals of mesquite? Join the Cooper Center for Environmental Learning for a breakfast including mesquite breakfast pancakes, mesquite-pod milling, demonstrations, solar cooking, smoothies, treats and a talk from internationally acclaimed baker and Barrio Bread owner Don Guerra. 9 a.m. to 1 p.m. Saturday, Oct. 6. 5403 W. Trails End Road.
Details Here.
Bakasana And Beer.
Morning yoga session and then beer? That's what Dragoon Brewing Co. is offering, and why not? On select Saturdays, join them in the Dragoon Taproom for an hour and experience all levels of vinyasa yoga. After the session, treat yourself to beer. Guests are asked to bring their own mats and even a growler if they want to fill it up. 10:30 to 11:45 a.m. Saturday, Oct. 6. 1859 W. Grant Road. $6
Details Here.
Tucson's Wurst Oktoberfest.
Tucson Originals Restaurants is partnering up with Local First Arizona to bring to you an event filled with family-friendly celebration of local food and beer. Bier Stein Races and the Chicken Dance are activities included in the Oktoberfest games and activities available. Enjoy classic German food with a Tucson twist, with food like bratwursts, pretzels and more, at Armory Park. Noon to 8 p.m. Saturday, Oct. 6. 222 S. Fifth Ave.
Details Here.
S
ixth Annual Oktoberfest at Trail Dust Town
. "One of the biggest and best events of the year at Trail Dust Town, Oktoberfest is one you won't want to miss." Enjoy beer from local brewing big names such as 1912 Brewing Company, Catalina Brewing Co. and more. Dance to live polka music performed by The Bouncing Czechs and pick from a variety of German-inspired food options while enjoying Trail Dust Town attractions. 3 to 10 p.m. Saturday, Oct. 6. 6541 E. Tanque Verde Road.
Details Here.

Sonoran Glass School Pumpkin Fiesta.
Fall feels like a work of art in and of itself, and spending a day exploring the hand-crafted glass selections at the Sonoran Glass School is always a treat. Why not combine the two? Frolic through glass art pumpkin patches in a fall-themed gallery that also includes fused fall platters and candleholders. Watch some mind-blowing glassblowing presentations, and even create your own glass pumpkin in the studio—no experience or appointment necessary. These pumpkins are so beautiful, you're going to wonder why Cinderella really thought it was such a bad thing to be turned into a pumpkin at midnight. Keep it glassy. 10 a.m. to 3 p.m. Saturday, Oct. 6 and Sunday, Oct. 7. 633 W. 18th St. Free entry, $85 for the Make Your Own Pumpkin experience.
Details Here.
Danny Green Trio.
Are ya ready to get jazzy? Award-winning recording artist, pianist and composer Danny Green—a rising star on the jazz scene—is coming to Tucson with the other two-thirds of his trio, upright and electric bassist Justin Grinnell and drummer Julien Cantiem (Danny plays the piano—or the pian-y, if you want it to rhyme). The trio has been around since 2012, and has performed their unique blend of jazz, classical and Brazilian music all over the country. 7:30 p.m. Saturday, Oct. 6. Sea of Glass Center for the Arts, 330 E. Seventh St. $15 advance/$20 day-of for adults, or $12 advance/$15 day-of for youth 12 to 15 or $4 for kids 4 to 11.
Details Here.


Carnival of Illusion season opening.
Can you believe this loveable magic show created by a husband, a wife and their cute lil' dog has already been around for 10 years? Maybe you don't believe it. But tell you what: This is the sort of show that just might leave you feeling like you believe in magic itself. It's got that old-school, vaudeville, nostalgic feel, in a small setting that gives you a chance to see the magic up close and personal. It's a "clean" show, but not recommended for people 8 and under. Get a babysitter and give yourself a night out on the town. 4:30 and 7:30 p.m. Saturday, Oct. 6. Tucson Scottish Rite Grand Parlour, 160 S. Scott Ave. $35 to $45.
Details Here.
Paper Foxes.
Paper Foxes (PF) play throwback dance punk. With the forward momentum of Gang of Four refracted through the modern lens of Les Savvy Fav, this Phoenix combo nail down a basic rhythm and build momentum with syncopated guitars. Mildly atonal synths dissolve during bridges and reconstitutes beneath Interpol-y (or John Foxx-era Ultravox, for you oldsters) vocals, which band members trade off. Each musician is accomplished but choosing to play with great restraint, keeping melodies all singsongy, grooves in pocket, and never exceeding a sustainable pop-length song. Wisely attacking subjects that merit and mirror their musical repetition like, "Not Over Yet," and "Devil on My Shoulder," the lull of richly sung, heavily-reverbed lines drones on and on, contributing to the overall danceability and well-executed hypnotic mental state. With The Happy Fits, Crystal Radio, Actual Wolf and Juju Fontaine. Saturday, Oct. 6. Cans Deli, 340 N. Fourth Ave. Doors at 8 p.m. $5, 21+.
Details Here.
Niki J Crawford
sings gospel-rooted soul pop with the comfortable Afrocentricity of a kid who grew up on Stevie Wonder's Innervisions and the streetwise authenticity of Lauryn Hill. Hailing from the tiny town of Springhill, Louisiana, Crawford's take on the mighty "Elay" and big city life is that of a knowing outsider, "it's the Dream that holds us here." In four minutes, Crawford reminds us that we are all unified, and should be rising together, with a little help from the super natural. The band slides and grooves beneath her, as she belts and testifies across psychedelic lounge, late-'70s funk and early-'80s radio-friendly reggae backbeats with equal confidence and merit. Crawford keeps it positive without ever going didactic. With her natural hair and Dashiki chic, she is a role model for generations of young women to come. Saturday, Oct. 6. Monterey Court Studio Galleries, 505 West Miracle Mile. Doors at 7 p.m. $10 online, $15 at door. All ages. Brownpapertickets.com
Details Here.


Free Admission to Tohono Chul Park.
In honor of National Arts & Humanities Month, Oro Valley partnered up with local galleries, museums and businesses to offer all sorts of discounts, tours, free concerts and free admission days throughout October. This week, don't miss a chance to stroll through the grounds of Tohono Chul Park, which is lovely all year round, but especially enjoyable during months with cooler weather. Galleries meet gardens meet altogether gorgeousness at this Tucson staple. If you missed your chance to go for free at the Smithsonian's free museum day in September, thank the town of Oro Valley for believing in second chances! 8 a.m. to 5 p.m. Sunday, Oct. 7. Tohono Chul Park, 7366 N. Paseo del Norte.
Details Here.
Chinese Warriors of Peking.
Do you like having your mind blown? Of course you do. This production, a product of China's Ministry of Culture, tells the story of two rival martial arts disciplines competing in the ancient Chinese capital of Peking during the Ming Dynasty (1368-1644, or: a long time ago). If you think juggling is cool, just wait until these guys bust out some weaponry and break into some live stage combat, breath-taking acrobatics, and generally intense martial arts. It's the type of stuff that makes you feel exhausted just watching it, or even just thinking about it. But in a totally cool, I-wish-I-was-that-physically-fit, wow-the-human-body-is-truly-capable-of-incredible-feats sort of way. 4:30 p.m. Sunday, Oct. 7. Fox Tucson Theatre, 17 W. Congress. $24 to $29.
Details Here.


Send Us Your Photos:
If you go to any of the events listed above, snap a quick pic and tag us for a chance to be featured on our social media sites! Find us on
Twitter
,
Facebook
and
Instagram
@tucsonweekly.



Events compiled by Brianna Lewis, Emily Dieckman, B.S. Eliot, Ava Garcia and Jeff Gardner.