The annual Tucson Meet Yourself Festival will be highlighting a Culture Kitchen to provide festival attendees with fresh samples of homemade cultural recipes from different countries around the world including Iraq, Lebanon, Congo and Turkey.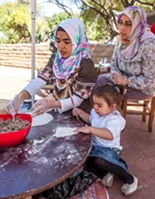 Culture Kitchen mainly features families showing off their cooking traditions in front of a live audience who afterwards will hand out samples of the dishes they prepared.
Some recipes that will be shared at the event include phyllo dough filled with fruit such as fig, prickly pear, and dates prepared by Janet Griffitts and Nahide Aydin, and Sonoran style enchiladas prepared by the Breckenfelds.
Nelda Ruiz, the Culture Kitchen organizer for this year, said that the kitchen is a great way to share stories of families by sharing traditional food recipes. The theme this year focuses on the importance of traditions learned from family, loved ones and friends.
"People can come every single day of the weekend and still see different things each day," Ruiz said. "That's also very telling of where we live, there is a wide variety of different cultures and communities here in Tucson."
On Sunday, Oct. 14, at 3:30 p.m., there will be a round table discussion organized by the Center of Regional Food Studies from the University of Arizona, discussing the histories of foodshed, which is the term that describes how food is grown, produced, and consumed.
The Culture Kitchen will be located outside the Jácome Plaza at the Tucson Meet Yourself Festival from 11 a.m. to 5 p.m. on Friday, Oct. 12, Saturday, Oct. 13, and Sunday, Oct. 14.