Odyssey Storytelling: Big Brother.
We're not talking about the wholesome sort of big brother who beats up playground bullies who get in your way.
It's the much more interesting concept from 1984: doublethink, secret recordings, constant surveillance, data breaches—that sort of thing. Hear stories from six local storytellers about times in their own lives that relate to this month's unsettling-when-you're-experiencing-it-but-fascinating-when-you-hear-about-it-theme. 7 p.m. Thursday, Oct. 4. Sea of Glass Center for the Arts, 330 E. Seventh St. $10 adults, $7 students.
Details Here.
Free First Thursdays.
Every first Thursday of the month, Tucson Museum of Art hosts the party of the night with a variety of things to do. From exploring their permanent art collections with a drink in your hand to learning how to dance, there is something for everyones taste. A DJ will be blasting jams all night long wile you learn to dance from Arizona Opera. The Museum's shop will also be open for a reception to benefit this month's featured artists. There is a handful to do so you wont get bored. 140 N. Main Ave. 5 p.m.- 8 p.m. Free.
Details Here.


Erased.
Students in the UA's master program for generative dramaturgy commissioned, conceptualized and directed this collection of seven 10-minute plays, all exploring the act of erasure, or of scraping, expunging, effacing, deleting or obliterating, from a variety of angles. They're part of the School of Theatre, film & Television's Studio Series, which supports and showcases experimental performance with a model that focuses less on production elements and more on the artistic and intellectual efforts of the student creators. The productions are lovely, thought-provoking, and not kid-friendly, so get a babysitter if you gotta! 8 p.m. Thursday, Oct. 4 through Saturday, Oct. 6 and 2 p.m. on Sunday, Oct. 7. Harold Dixon Directing Studio, room 116 in the Drama Building, 1025 N. Olive Road. $7.
Details Here.


Flavors of Tucson.
Banner University Medicine presents "Flavors of Tucson." This a chance to be adventurous with your food consumption while also supporting the research, education and advocacy efforts of the American Liver Foundation. The evening will differ from a typical gala with signature dishes from top local chefs for cheaper prices than the usual top restaurants. The event will take place at Loews Ventana Canyon Resort Kiva Patio & Ballroom. 6:30 to 11 p.m. Thursday Oct. 4. 7000 N. Resort Drive.
Details Here.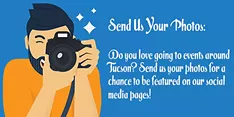 Send Us Your Photos:
If you go to any of the events listed above, snap a quick pic and tag us for a chance to be featured on our social media sites! Find us on
Twitter
,
Facebook
and
Instagram
@tucsonweekly.


Events compiled by Brianna Lewis, Emily Dieckman, B.S. Eliot, Ava Garcia and Jeff Gardner.