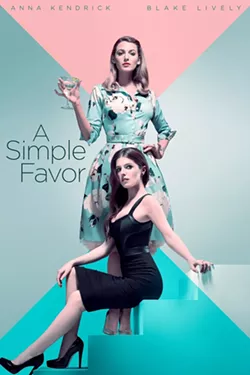 If you liked the movie (or the book) "Gone Girl," read on. Don't worry, though — no spoilers here.
Blake Lively and Anna Kendrick star in director Paul Feig's new drama "A Simple Favor."
The film had every member of the audience on the edge of their seats when I saw it. With at least three twists that I didn't see coming, I really didn't know how this one was going to end, and that's how a movie should be.
Anna Kendrick plays a seemingly innocent single mom named Stephanie who streams cooking videos and shares her recipes for other moms around the country. One day at school, her son (Miles) and his friend (Nicky) ask her if they can have a playdate, but Stephanie says she needs to check with Nicky's mom.
At that moment, Blake Lively, whose character's name is Emily, steps out of her Porsche in a fancy business suit. Stephanie is in awe when they meet, but the boys get their playdate.
Stephanie and Emily become best friends because of their sons' relationship. Emily is enigmatic, inconsistent and loves her cocktails. One day, Emily asks Stephanie to pick Nicky up from school, which wasn't abnormal. However, Emily never comes to pick Nicky up that day, or the next day, or the day after that. After a few days Stephanie and Emily's husband file a missing person's report with the police, but they don't have any luck for weeks.
The rest of the movie is a flurry of twists and turns and it does not disappoint. I don't want to give anything away, but I have to say "A Simple Favor" is one of the better movies I've seen in a while.
Another good comparison, aside from "Gone Girl," could be "Ex Machina." If you've never seen any of these movies, do yourself a favor and watch them. You won't regret it.