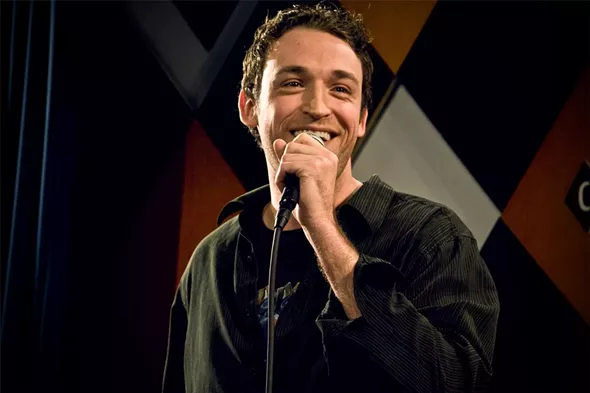 Dan Soder says Tucson Weekly editor Jim Nintzel was his favorite teacher at the University of Arizona. His writing, though, belongs entirely to comedy "I only know how to write because of comedy," he says. "It all comes from me learning to write jokes."
His bartender father, he says, is the source of his unique, observational comedy style. "I watched him joke around with anyone about anything," he says, "and I loved that. Humor can make a lot of really shitty situations much better."
Having learned how to joke about anything, he now finds comedy gold in everything, including his 89-year-old grandmother's views on death, and a personal crime drama involving a caper with his pot-selling Tucson roommate.
Soder brings his regular-guy comedy to 191 Toole at 7 p.m., Saturday, October 6. Tickets are $15 via rialtotheatre.com; the $20 seats were snapped up weeks ago.
We were lucky to catch up with him via email between filming
Billions
and flying to and from performances.
"I started doing standup in Tucson!," he says. "At Laff's! I loved starting in Tucson because it was small, fun scene where I got to learn a ton in a short period doing one nighters at casinos and other places while also being able to work weekends emceeing and featuring at Laff's."
He follows with a line that Laughing Stock espouses often. "Laff's is still a great club and you should go and check (it) out. Support local comedy!"
Tall and good-looking, Soder's best look is bemused. He seems to try actively not to be that asshole who looms over everyone. He dresses down. You could forget that he's a player in the breakaway streaming drama,
Billions
, but you suspect all that is how he got the gig.
His standup audiences connect with him most when he relents and breaks his thousand-watt, gap-toothed smile. And he seems to be breaking it more often as his career opens up.
Having launched his Comedy Central career playing Amy Schumer's boyfriend in a sketch, he scored a part as the guy who kisses her next to a dumpster in Ben Afleck's Schumer vehicle,
Trainwreck
. "I filled in for another comic who couldn't get his paperwork sorted out with Canada," he says.
His first hour-long special,
Not Special,
premiered on Comedy Central in May of 2016, and last year he was featured in the Netflix Original series,
Standup.
On
Billions,
he's Mafee, one of the ground-floor finance nerds. They are the only characters not engaged constantly in threatening the lives and livelihoods of everyone else in the series.
You may also know him as the co-host of the brah-cast
The Bonfire
on Sirius Radio.
Death Trap: Wickedly Funny
Arizona Rose Theatre Company is staging Broadway's longest-running comic thriller,
Deathtrap,
through Sunday, October 14, at 7 p.m. Saturday and 2 p.m. Sunday. The popular murder mystery features a prominent Broadway playwright despairing for his now-failing career. He conceives a plan to take credit for the work of a brilliant student and skullduggery ensues.
Tickets are $8 to $15 via arizonarosetheatre.yapsody.com. The theatre is located at 4500 N. Oracle Road, Ste. 149, across from Macy's and the Container Store.
Lorrie Brownstone opens for Keith Carey
Named Funniest Over 40 at the 2017 Manhattan Comedy Festival, former Tucsonan Lorrie Brownstone opens for Keith Carrey at Laff's Comedy Caffe at 8 and 10 p.m., October 12 and 13.
Local comedy hero Nancy Stanley, who has launched a dozen women comedians in the Old Pueblo, frequently refers to Brownstone as her own mentor.
Keith Carey was a rigger on the 2011
Captain America: The First Avenger
, and he wears the T-shirt onstage to this day. The laughs start there. Carey's also a writer with two feature films in production, and he writes and hosts the podcasts
Roast Battle
and
Mean Boys
.
One of comedy's tiniest minorities, Carey is bisexual, assuring laughs for fans of all genders. He's a regular at the Comedy Store in L.A.
Shows are at 8 and 10:30 p.m. Reservations are $12.50 and 17.50 at laffstucson.com, and there is a two-item cover.