Desert Living.
A new month means a new show at the Wilde Meyer Gallery. And in October, all of the gallery's art is centered around the theme of what it's like to live in the desert. Whether it's a Native American looking off at the sun from atop his horse, a vibrant landscape or desert wildlife draped in Sonoran sunshine, you'll see the beauty of the desert portrayed from angles you never realized existed. Even if you already think the desert is beautiful and love living here, there's something fascinating about seeing your world through someone else's eyes. Oct. 1 through Oct. 31. 10 a.m. to 5:30 p.m. Monday through Saturday and 1 to 4 p.m. on Sundays. Every Thursday, the gallery is open for ArtWalk from 5 to 7 p.m. as well, with refreshments and special events. Wilde Meyer Gallery, 2870 E. Skyline Drive. Free.
Details Here.




Public Evening Astronomy Lecture Series
. Get your science senses tingling and participate in a series of lectures throughout the month of October. This lecture will be called "The Secret History of Astronomy and Hollywood." Hosted at the UA, look through a telescope and be hands on with the lectures. Christopher Ford and other special guests will be speaking at the lectures. Hosted at the UA Steward Observatory, 933 N. Cherry Ave. Free.
Details Here.
Retrolution.
The longest running dance party is making its debut in Tucson at Hotel Congress on Oct. 1 at 10:00 p.m. A blast from the past you will be dancin' and jammin' to your favorite hits from the 80's and 90's. To loosen up and get yourselves comfortable, they will be servin' up cheap drinks. DJ Sid the Kid will be playing the jams to get you in the groove. 21+ Free. 311 E. Congress St.
Details Here.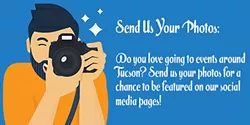 Send Us Your Photos:
If you go to any of the events listed above, snap a quick pic and tag us for a chance to be featured on our social media sites! Find us on
Twitter
,
Facebook
and
Instagram
@tucsonweekly.


Events compiled by Brianna Lewis, Emily Dieckman, B.S. Eliot, Ava Garcia and Jeff Gardner.