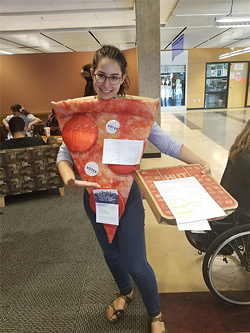 A three-foot pizza-slice costume hangs from Maria Eller's neck, adorned with stickers that say "voter." An organizer for NextGen, Eller and other volunteers with the liberal political advocacy group had a "Pizza and Polaroids" table at Pima Community College West Campus to get young people's attention and, hopefully, to convince them to vote.
"I wore a pizza costume to get people's attention. We've been stopping anyone and everyone so that I'd have a reputation on campus for being, 'Oh, you're that voting person,'" she said with a laugh. She hands out free pizza and snaps polaroids of students while talking to them about registering.
NextGen America was on 20 Arizona college campuses registering young people to vote on Sept. 25, National Voter Registration Day.
NextGen AZ, the Arizona branch, registered 31 people across all five PCC campuses along with gathering 40 pledges to vote, which mostly came from previously registered voters. The group also registered 50 people and got 20 pledges to vote on the University of Arizona campus.
Eller shares the organization's passion for spreading political awareness and inspiring young people, age 18 to 35, to participate.
"This age group is the largest eligible voting block and the next generation of voters who are going to hold their elected officials accountable," she said. "Our job here is to ensure students and young people know their votes and opinions matter."
Eller said a good number of students approached them to ask questions about registering to vote and what they need to do come election day.
"The students on the Pima campus care about affordable healthcare, having gun safety so that they feel safe in their school, and they also care about education and the cost of college," she said. "We're really mobilizing young people to get out the vote around the issues they care about and to let them know what the power of their vote is."
NextGen recently invested $3 million on their youth vote program, throughout Arizona, spending $480,000 on their digital ad campaign. Belen Sisa, a media manager for NextGen, helped organize an ad campaign focused on social media, in preparation for National Voter Registration Day.
"Andrew Gillum's huge victory in Florida, which was backed by NextGen America, proved that a good digital strategy can make all the difference in empowering young people and winning elections," Sisa said. Gillum is the Democratic candidate for governor of Florida.
NextGen America Director Heather Hargreaves said young people often don't realize that they have the power to "reshape the American political landscape."
"A smart, targeted digital strategy will be the difference between young people heading to the polls or two more years of total Republican rule," she said in a statement. "These ads show young Americans that the issues they are passionate about—access to healthcare, affordable education, racial justice—are all within reach if they show up on November 6th and demand them."
Sisa said NextGen registered 322 people and gathered 326 pledge to vote cards from those aged 18 to 35 across the state.
NextGen AZ does not have any official events planned for the near future, but Sisa said they are going to be canvassing and maintaining their presence on college campuses to keep getting young people registered before the voter registration deadline on Oct. 9.
Tags: vote , register , NextGen AZ , students , education , Pima Community College , Image