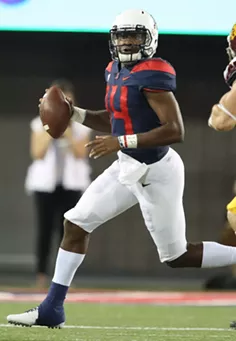 A horde of blue-clad players with matching white helmets trudged inside the depths of Arizona Stadium in the late evening hours of Saturday night.
The long-faced young men had just slogged their way through a three-hour contest with longtime Pac-12 foe USC, with the visiting Trojans pulling off a 24-20 victory.
It was a long and arduous affair, with the two combatants committing a combined 26 penalties—with each side having its share of offensive inefficiencies.
The hometown Wildcats (2-3, 1-1) had their share of miscues, falling behind 24-0 midway through the third quarter, before junior quarterback Khalil Tate found former Mountain View High School wide receiver Stanley Berryhill III for a 33-yard touchdown, bringing the Wildcats within 17.
Arizona was able to draw closer in the game's final stanza, with Tate hitting Cedric Peterson for a 32-yard touchdown with 9:32 remaining.
Sophomore running back Gary Brightwell closed out the night's scoring, slamming it home from a yard out to bring Arizona within four, 24-20, with 1:40 remaining in the fourth quarter.
Sophomore kicker Lucas Havrisik's extra point sailed wide-right, setting off the first of two mishaps for the strong-footed place kicker.
His second came mere moments later, when his onside kick attempt skirted along the turf playing surface, before bouncing directly into the hands of a USC return man.
Arizona coach Kevin Sumlin addressed the team's performance post-game, discussing the team's inefficiencies on offense, including racking up 98 rushing yards (to USC's 253).
"Well, I thought USC did a nice job of challenging us," Sumlin said. "They played a bigger front, which was creating singles with linebackers, and then challenged on the perimeter with man-to-man coverage. And so we had to get to an area where we really had to throw the ball and we created some big plays versus the man-to-man coverage."
A quartet of Arizona players met with the media, with each offering their share of platitudes and explanations for the team's 4-point defeat.
Tate, who had 232 passing yards on 16-of-33 passing in the loss, said the team did a poor job of staying energized throughout the night.
The junior knows that the team will need to play with a more evened-out sense of urgency against the University of California at 7 p.m. next Saturday to have a shot at winning.
"I think we didn't play hard all four quarters. I think we started playing hard, but it didn't come until the second half, the fourth quarter to be exact," he said. "So, I think that's something that's something that you have to do to be a good team or be a team that's even halfway decent you just have to play all four quarters, and that's what we didn't do."
Sophomore linebacker Colin Schooler, who had a team-high 13 tackles and a forced fumble, touched on a similar narrative.
For Schooler, the night's outcome showcased the defense's lack of energy when it mattered most, preventing them from beating the Trojans (3-2, 1-2) for the first time since 2012.
"I thought we played pretty well. Not as well as we played last week, we started off really strong," Schooler said. "Then third quarter, we kind of didn't have the energy that we should have had, and then when things started to turn out well we started to pick up our energy. But, we have to have that energy no matter what the score is."
Sumlin addressed the team's lack of urgency, which he attributed to a myriad of off-the-field factors, centering around the stoppages incurred by having a game on national television.
"I thought our energy level to start the game was excellent. … It's hard to have that energy level when you're not moving the ball offensively," he said. "It's a different type of game because of all the stoppages—television, penalties, you name it, it happened. All that being said, we didn't play very well."
Looking Forward
The Wildcats will look to get back in the win column this Saturday against Cal, in the teams' first meeting at Arizona Stadium since the 'Hail Mary' contest in 2014.
That game, which Arizona won 49-45, ended with a wild 47-yard 'Hill Mary' touchdown pass as time expired from then-QB Anu Solomon to receiver Austin Hill in the end zone.
That win propelled Arizona to an improbable 10-4 season, which included the team's first berth in the Pac-12 Football Championship Game.
Schooler believes that the Wildcats, who lead their all-time series with the Bears, 17-14-2, have a good chance against a 3-1 Bears team that lost to Oregon, 42-24 on Saturday night.
"I feel like we just need to play a complete game in all three phases," Schooler said. "If you look at our three loses we haven't done that, so if we control the line of scrimmage and do well in all three phases of the game then there's not a team that can beat us."