Baby Driver.
Boom boom bop, da do da do bop. Okay, maybe syncing up to music is better suited for the medium of cinema than writing (except for the jazz sections in On the Road). Luckily for you, The Loft Cinema is screening a 35mm print of the crown jewel of music-action. Nominated for three Oscars, this heist film is as much of a joy to watch as it is to listen to. 7:30 p.m. Wednesday, Sept. 26. 3233 East Speedway Blvd. Regular admission prices.
Details Here.

Sunset Boulevard.
THE BEST black-and-white Hollywood film, this 1950 classic is an elegy to the age of silent film and, at the same time, a healthy self-examination of the silver screen.
The winding story, the nocturnal settings and the unforgettable performance by lead actress Gloria Swanson combined to earn this film 11 Oscar nominations. Screenplays about screenplay writers can be tedious and self-indulgent, but this is certainly not the case. Join faculty from the UA School of Theatre, Film & Television for Widescreen Wednesday as they examine cinema classics. Film Introduced by Dr. Joshua Gleich. 7 p.m. Wednesday, Sept. 26. Center for Creative Photography. 1030 N. Olive Road. Free.
Details Here.
Tucson Storytellers:
How Tucson Became Home. Well, how did Tucson become home for you? Are you a born-and-raised local? Did you move here for school or a job? Did the wind just sort of blow you here? Maybe you lived here for years before you had a moment where you felt like Tucson was really home. The Arizona Daily Star, This Is Tucson and the Tucson Museum of Art are hosting this event in which a handful of storytellers will share their stories about how this sweet little city became home for them. What a way to learn more about your neighbors, and to take some time to reflect on your own experience in the Old Pueblo. 6:30 to 8 p.m. Wednesday, Sept. 26. Tucson Museum of Art and Historic Block, 140 N. Main Ave. $10 GA, $5 students.
Details Here.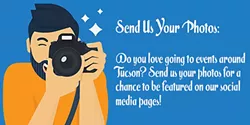 Send Us Your Photos:
If you go to any of the events listed above, snap a quick pic and tag us for a chance to be featured on our social media sites! Find us on
Twitter
,
Facebook
and
Instagram
@tucsonweekly.


Events compiled by Brianna Lewis, Emily Dieckman, B.S. Eliot, Ava Garcia and Jeff Gardner.