The price to bring home a dog from Pima Animal Care Center has been reduced in honor of National Dog Week, Sept. 23-29. This is celebrated in the fourth week of September every year.


People can celebrate National Dog Week in a variety of ways at Pima Animal Care Center:
Overnight/day trips:
Foster a dog overnight or during the day for a few hours. A form of identification must be presented in order for the dog to leave the facility. Short-term fosters can take the dogs to the park, to get a snack, or to go for a run. PACC does ask that interactions with strange dogs are limited. If you'd like to foster, you can start by filling out the required forms.
Donating:
A donation can go a long way at PACC. It can be a bag of dog food, a cat bed, or a monetary donation. Funds can help provide food, treats, toys, bedding or even medical treatment. One easy way to donate is by checking PACC's Amazon Wish List.
Volunteering:
Nothing at PACC would be possible if it weren't for the help of the dedicated volunteers. There are a variety of ways to volunteer including walking dogs, feeding cats, cleaning pets and cages in the clinic, and more.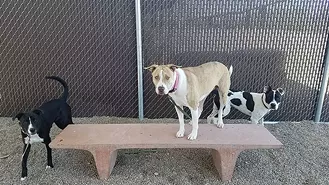 Adopt:
For dogs six months and older, the price is now $15. The price for under six months is $25. In addition to the adoption fee, there is a $19 licensing fee for dogs. The total price includes spay or neuter surgery, age-appropriate vaccinations, a microchip and a free vet visit.
PACC is located at 4000 N. Silverbell Road. The shelter is open Monday through Friday, noon-7 p.m. and from 10 a.m. to 5 p.m. on weekends.
Find
more info here.