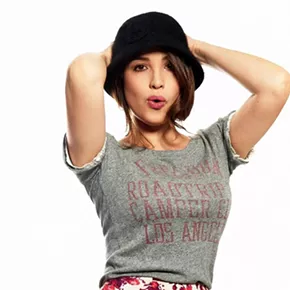 Laughing Stock is slacking again next week, but the laughter never ends. Laff's Comedy Caffe is always a good call, and tucsoncomedy.com has everything else. Our picks follow.
How did we get this show for free?
L.A. Latina comic Luz Pazos drops in for a headlining set at 8 p.m., Tuesday, Sept. 25 at The Mint Cocktails, 3540 E. Grant Road. No cover.
Pazos is a Peruvian egghead from Los Angeles via Italy who apparently got bored being a fashion model. She's won more than her share of comedy contests in L.A., and has played the Comedy Store, Improv and Laugh Factory as well as festivals in Toronto, Asheville and Portland. Soon we'll see her in the First Nations of Comedy on PBS.
With this show, promoter Joey G introduces an upgrade to his ongoing weekly open mic at the Mint. Bringing fresh talent to Tucson provides talented locals more experience opening for established headliners. It's a model that's already spurred the two-year growth of Brew Ha Ha at Borderlands Brewery.
Say My Name
Cunts Being Cunts Talking About Cunts returns at 9 p.m., Friday, Sept. 28 at CANS DELI; $5. Organizers say they originated the show to give cunts the respect they deserve.
Now in its second year, the quarterly event benefits the YWCA's Project Period, which provides free sanitary products as needed. The band Cool Funeral performs following the comedy line-up, including hosts Mo Urban and Steena Salido, Phoenix comedian Sloan Valenzuela, and award-winning storyteller Molly McCloy, among others, including moi.
Opening the Main Gate
Chad Lehrman and his tucsoncomedy.com site debut Tucson's Best Comedy at 8 p.m., Tuesday, Oct. 2, at Gentle Ben's, 865 E. University Blvd.; $5. Featured comedians are Pauly Casillas, a veteran of Funny Or Die and Laughs on Fox; Kristine Levine of Portlandia; Matt Ziemak, winner of 96.1 KLPX Laugh-Off; Mo Urban, host of Tucson's The Dating Game; Ali Musa and, as host and emcee, Dom Di Tolla.
Titters says it all.
Tucson cartoonist David Fitzsimmons' presents Thanks for the Mammaries: The Estrogen Hour's finest Hour at 8 p.m., Wednesday, Oct. 3, at Laff's Comedy Caffe. Tickets are $15 via freshtix.com/events/titters. The show is 21 and older.
This is the second show Fitzsimmons has produced to raise money for Making Strides Against Breast Cancer, an event organized by the American Cancer Society. Fitzsimmons lost his mother and sister to breast cancer.
Estrogen Hour founder Nancy Stanley hosts the show. The full lineup, including a couple of breast-cancer survivors, is Stacy Sheff, Steena Salido, Mo Urban, Charlotte Bellflower, Amber Frame, and your humble Laughing Stock scribe.