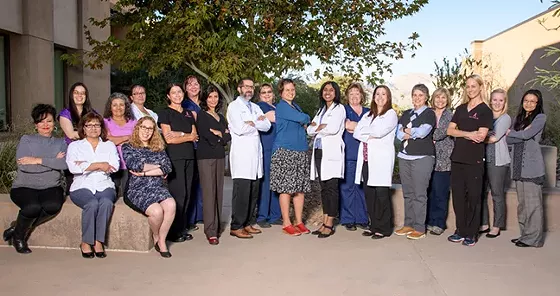 The University of Arizona Cancer Center and Banner – University Medicine will educate the community about breast cancer risk in an outreach event on Saturday, Sept. 29, from 9 a.m. to noon in Building 2 at the UA Cancer Center – North Campus, 3838 N. Campbell Ave. The event is open to the public.
The presentation, titled "Are You at High Risk for Breast Cancer?" will cover a range of topics, including genetics, preventive surgery, risk reduction and clinical trials.
Personal risk counseling will be offered to all attendees who wish to participate. Visitors need no appointment to receive this assessment.
"Every woman with breasts has about a 12-percent chance of getting breast cancer at some point in her life," said Beth High, M.S.N., breast oncology nurse navigator. "Plus, there are some specific risk factors that can affect that risk, some that you have control over, and some that you cannot control. For example, people have control over their lifestyle choices. Those who are overweight, drink more alcohol or don't exercise may have an increased risk for developing breast cancer."
While people can make the decision to drink less and exercise more, some risk factors are immutable.
"The biggest risk factor that you cannot control is being a woman," says High. "Another factor is age. As you grow older, your risk increases. We don't get to choose our family; your inherited genes affect your risk."
Cassie Garcia, M.S., C.G.C., a certified oncology genetic counselor, will give a presentation on how genetic testing and a detailed understanding of one's personal and family history can help patients make decisions about genetic testing options, screening and prevention.
"Knowledge is power," says Garcia. "Testing positive for a mutation in the BRCA genes or other hereditary cancer genes can be scary, but it also gives people the tools they need to be proactive and take steps to reduce their cancer risk."
Attendees will be able to meet with a breast team nurse to assess their personal risk factors for breast cancer. Basic education about risk-reducing lifestyle changes and the importance of screening mammograms will be provided. Those who wish to take it a step further and meet with a genetic counselor at a later date will be offered that opportunity as well.
Those with genetic mutations or a family history that put them at an especially high risk for breast cancer might choose to reduce their risk by having their breasts prophylactically removed. UA breast surgeon Rebecca Viscusi, M.D., will give a presentation on surgical options for high-risk patients.
"The decision to obtain a preventive double mastectomy can be difficult to make," said Dr. Viscusi. "Our presentation will discuss the pros and cons of this type of surgery as well as reconstructive options that are available."
High-risk patients might also have questions about how often they need to receive mammograms to screen for breast cancer. Suzette Bryan, M.D., breast radiologist and assistant professor at the UA College of Medicine – Tucson, will review current recommendations for patients at increased risk for breast cancer.
"It is important for patients and their referring clinicians to be aware of a patient's lifetime risk for developing breast cancer, as this will change the annual screening recommendations for a patient who is deemed to be at high risk," said Dr. Bryan. "At our breast center, the radiologists pay very close attention to a woman's personal history and family history to determine if she might benefit from genetic counseling. Women are often not clear on what it means to be high risk, and it is our job to teach them and to ensure that they are undergoing the appropriate breast screening tests based on their personal risk."
Sima Ehsani, M.D., UA Cancer Center breast oncologist and assistant professor at the UA College of Medicine – Tucson, will give a presentation on risk-reduction strategies, including chemoprevention options like tamoxifen. Her talk will be aimed at people she calls "previvors," those who are at higher risk for developing breast cancer, but who have not been diagnosed with the disease.
"Most previvors are not aware of their increased risk of cancer," said Dr. Ehsani. "One of our missions as oncologists is to raise awareness of these risks among people and their health-care providers. In our high-risk clinic, we help our patients manage their increased risk of cancer by enhanced screening or risk-reducing strategies. We use medical and surgical interventions to keep our previvors from being survivors."
Attendees also can learn how they can participate in research to help expand scientific knowledge about breast cancer risk. The UA Cancer Center is recruiting patients for several clinical trials to investigate better ways to prevent breast cancer in high-risk patients.
"Although screening and treatment have improved, breast cancer tops all other cancer diagnoses among women in the United States," said Pavani Chalasani, M.D., M.P.H., leader of the UA Cancer Center's breast cancer clinical research team. "Learning more about how people at higher risk of breast cancer can reduce their chances of developing this disease will help decrease breast cancer's high incidence."
Attendees are encouraged to RSVP by calling 520-626-0191 or emailing Annette Price at Aprice@uacc.arizona.edu.
For more information about the UA Cancer Center Breast Cancer Multidisciplinary Clinic, please visit the UA Cancer Center website. To make an appointment at the UA Cancer Center — North Campus, call 520-694-CURE (2873). To make an appointment at the UA Cancer Center — Orange Grove campus, call 520-742-4183. To make an appointment with the UA Cancer Center Breast Imaging Center, call 520-874-MAMM (6266) or 874-6300.