Summer Wine Tour: Washington.
A far cry from the vineyards of Italy and France, can the great state of Washington hold up when it comes to wine samplings? Maynards Kitchen and Market invites you to taste the flavors of Cascadia from the comfort of Tucson's historic train depot. Sign up at Maynards Market or online at maynardstucson.com/wine-club. 6 to 8 p.m. Friday, Sept. 14. 400 N. Toole Ave. $12.
Details Here.
Fanna-Fi-Allah (FFA)
play ecstatic devotional songs that build into what some might call sustained aural orgasms with god. See, seven practitioners chant, clap hands and drum beneath soaring melodies. So enraptured are the devotees, filled up and enveloped by centuries of musical tradition, channeling the power of millions of Pakistani and Indian Sufi devotees before them that this music actually frightens and embarrasses the modest, Protestant ear. Twenty-two years ago some curious kids from Nova Scotia began to study Qawwali music. They took Sufi names, formed FFA, and journeyed to South Asia to study with mentees of perhaps the world's greatest singer, Nusrat Fateh Ali Khan. Busking and praying, FFA traveled to traditional shrines and festivals all over the world. Tabla player Aminah Chishti amassed such fierce technical prowess that she is the first woman ever allowed to perform at Sufi sacred sites. FFA promotes tolerance and inclusion with every inhale and exhale. Friday, September 14, Rialto Theatre, 318 E. Congress. Doors at 7 p.m. $32-$42. All ages.
Details Here.
The Underpants.
The Roadrunner Theatre Company is kicking off its 2018-2019 season by kicking off its underpants! Well, not quite. But Steve Martin (yeah, the famous comedian) did adapt this play from a show by German playwright Carl Sternheim that's all about the aftermath of a woman's bloomers falling down in public. Louise and Theo Markes are good people. Conservative people. What will Louise's display of her underthings cost them? Theo worries he'll lose his job. A poet and hypochondriac, infatuated with all that they've seen of Louise (more than they should have), move into the Markes' house. This is a play about the earth-shattering events that follow an act of total public humiliation. Hopefully none of us can relate to it. Friday, Sept. 14 to Sunday, Oct. 7, with shows at 7 p.m. on Fridays, 2 p.m. on Sundays, and either 2 or 7 p.m. on Saturdays. $20 GA, $18 students and seniors, $15 military and starving actors.
Details Here.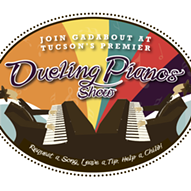 Tu Nitido's Dueling Pianos Show
. Tu Nitido is hosting this show for the third year in a row to help raise funds for grieving children across Southern Arizona. We didn't think it was possible to be so excited for an event that involves grieving children, but this is going to be a great night: Top-notch entertainers will be combining music, comedy and a little bit of audience participation to make magic with two baby grand pianos. Hits like "Don't Stop Believin'", "Jesse's Girl" and, of course, "Sweet Caroline" (bah bah bahhh) will have you leaving big tips for the performers (especially because the more tips you leave, the more likely they are to play the songs you want). And every penny of the proceeds will benefit Tu Nitido. 6 to 9 p.m. Friday, Sept. 14. Gadabout, 3100 N. First Ave. $100.
Details Here.

Bisbee '17.
One hundred years ago, 1,300 miners in Bisbee held a strike for better working conditions. What resulted was an illegal kidnapping and deportation at gunpoint by an armed posse. The striking miners and their supporters were loaded into cattle cars and deported 200 miles to New Mexico without food or water. This new documentary screening at The Loft tells the tale of the murderous event and its impact on modern-day Bisbee. Featuring a post-film Q&A with director Robert Greene, in conversation with Bisbee '17 author, Robert Houston. 7 to 9 p.m. Friday, Sept. 14. 3233 E. Speedway Blvd. Regular admission prices.
Details Here.

Man on Wire.
Every Friday in September, Casa Video is screening a wild and weird documentary. This week, it's the story of Philippe Petit's dizzying and nerve-wracking high-wire routine performed between World Trade Centers' Twin Towers in 1974. At a quarter-mile above the ground, Petit illegally walked across a wire suspended from the Twin Towers not once, but eight times! But did he survive? You'll have to watch to find out. 7 to 9 p.m. Friday, Sept. 14. 2905 E. Speedway Blvd.
Details Here.
Best of Summer Road Trip Menu.
Kingfisher is compiling all the favorite dishes from their Summer Road Trip menus into one mega-menu, and you get to try it out! Enjoy dishes like green gazpacho, wild mushroom with duck, pan-seared sea scallops, pear blackberry blueberry crisp and more! Plus, this new menu comes in line with Kingfisher's new happy hour pricing; Wines by the glass, beer and cocktails are $2 off the regular price. New drinks include cognac and gin cocktails. 5 p.m. to midnight through Saturday, Sept. 15. 2564 E. Grant Road.
Details Here.
Born & Brewed Beer Battle.
Hotel Congress is hosting the seventh annual brewery competition, where local brewers compete to be the crowd favorite. Competing breweries include 1912, Green Feet, Dillinger, Thunder Canyon, Ten55, Crooked Tooth and more. General admission gets you beer tastings plus German sausage, jackfruit sliders, potato salad and more. VIP admission gets you exclusive brewery tastings, plus special menu items such as Kartoffelkloesse potato dumplings stuffed with Dragoon Golden Ale soaked peaches. Who knew that was even a meal? But it sounds awesome! 7 to 10 p.m. Saturday, Sept. 15. 311 East Congress Street. $35 for general admission, $75 for VIP.
Details Here.
Bacon, Blues & Brews.
This event gathers all the greatest Bs in one place: Bacon Blues and Brews at Brother John's Beer, Bourbon & BBQ! You'll have access to unlimited bites of bacon-themed dishes from local restaurants, and there will also be live music plus six beer tastings! If this doesn't say "USA," I'm not sure what does. 3 to 5 p.m. Saturday, Sept. 15. 1801 N. Stone Ave. $25. Purchase tickets online.
Details Here.
Roaring '20s Bar Crawl.
"So we beat on, boats against the current, borne back ceaselessly into the past." I don't know what ol' F. Scott was going on about there, but maybe if he went to this bar crawl he wouldn't be so moody. Sky Bar Tucson is taking you back to the beginning of modern time: the jazz was fresh, the cars were big and the scarves were floofy. Participating bars include: The Funky Monk, HI-Fi, Highwire, The Hut, Lindy's, Mr. Heads and more! And adding to the '20s, magician Michael Howell channels Houdini by attempting to escape from hanging 24 feet upside-down in a straitjacket at Sky Bar. 5:30 to 10 p.m. Saturday, Sept. 15. 536 N. Fourth Ave. $8.
Details Here.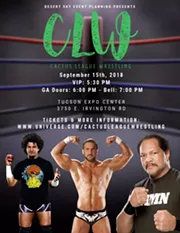 Cactus League Wrestling Live.
This event is bringing in some real superstar wrestlers. We've got Chris Masters, the guy who TMZ reported once ripped a tree out of the ground to save his mother from a burning building. There's former NFL player Ron Simmons. There's even Chavo Guerrero, who once shaved his own hair off after a Hair vs. Hair match. Professional wrestling truly is one of the things that, regardless of background, creed or passions, everyone across the world can raise a beer to, spill a beer to, and scream at the top of their lungs to. And if that isn't magic, we don't know what is. 6 to 10 p.m. Saturday, Sept. 15. 3750 E. Irvington Road. $10 GA.
Details here.


Ancient Climates.
This exhibit at the Tucson Botanical Gardens was developed by the Biosphere 2, and explores four-and-a-half-billion years of the Earth's climatology. Soak up striking images of both earth and space, the chance to peer through a microscope at geological wonders, and plenty of hands-on opportunities to learn about all the facets of our changing climate. They say talking about the weather is boring, but that's only if you're talking about the weather today. With billions of years of material to work with, there's a lot more interesting stuff to talk about. On display from Saturday, Sept. 15 through Feb. 13, 2019. Tucson Botanical Gardens are open from 7:30 a.m. to 4:30 p.m. daily and from 4:30 to 8 p.m. Thursdays and Fridays. 2150 N. Alvernon Way. $15 adults, $13 seniors/students/military, $8 kids 4 to 17, free for kids 3 and under.
Details here.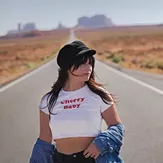 Instagram Photography Workshop.
Let's be honest. We've all tried to take a picture for the 'gram only to have it come out not 'gram-worthy. If you're ready to stop being disappointed and start being empowered when it comes to capturing aesthetic photos of your kids, pets, food or self, then check out this workshop! Photographer and designer Alyssa Smith will go over basics like how to set up a shot with good lighting, composition, lines and perspective, and then over some of her favorite editing apps as well. You'll get an opportunity to take some photos in and around the building and work with Alyssa one-on-one to make them 'grammatically correct, so to speak. 1 to 4 p.m. Saturday, Sept. 15. Creative Tribe, 236 S. Scott Ave. $35.
Details Here.

Mosaic and Collage Workshop:
The Basics. Mosaics have been around for a long time (since about 3,000 years B.C.) and the term "collage" was first coined by Georges Braque and Pablo Picasso. And you know what? Making them has only grown more fun over time. At this library event, they'll provide paper, tile and mixed media for you to use and experiment with. Plus, you're welcome to bring your own materials to share as well. This group meets up every month, so you can bring your project back in October to learn more about everything from design to finishing. 10 to 11:30 a.m. Saturday, Sept. 15. Mission Library, 3770 S. Mission Road. Free.
Details Here.
HungerWalk 2018.
The Community Food Bank's signature event is back, and it aims to bring together more community members to raise funds and awareness for the fight against hunger than ever before. You'll get some exercise and have some fun while supporting a great cause—and the kids will have a good time too, with plenty of activities available for all ages. Your support will help the food bank get closer to its goal of raising $230,000 to help close the hunger gap. 7 to 11 a.m. Saturday, Sept. 15. Sam Lena Park, 3400 S. Country Club Road. $25 adults, $10 kids.
Details Here.
Step for Pets Stair Climb
. Let's preface this by noting that in the middle of an Arizona summer, people have been known to perform remarkable feats as long as they are in air-conditioned areas. For example, climbing the 1,306 stairs of the Tucson Convention Center arena. If you like a challenge, and you like animals, this is the event for you, because proceeds go to the Humane Society of Southern Arizona. At the end of this extravaganza, all participants get a Step for Pets medal, and everyone gets complimentary registration to the Fourth Annual Sweat for Pets event in October. 8 a.m. to 1 p.m. Saturday, Sept. 15. Tucson Convention Center, 260 S. Church Ave. $30 adults, $10 kids, $200 athletic groups.
Details Here.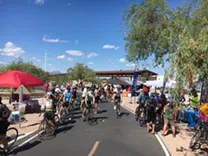 Loop the Loop.
Happy El Tour season! To get back into the biking groove, just hop onto Pima County's Chuck Huckelberry Loop literally anywhere you want. There's stations all along The Loop from 6:30 to 10:30 a.m . where you can meet El Tour charitable beneficiaries and sponsors, and pick up raffle tickets for a big raffle at the after party. At the after party, enjoy food, drinks, live music and prizes raffled off every 15 minutes! They're raffling off stuff like a mountain bike valued at more than $2,000 and bike valet parking, so it's not to be missed! Make some friends, check out the path, join a charity team for El Tour and talk with experts about gear and training. Ride 6:30 to 10:30 a.m., after party 11 a.m. to 1 p.m. Saturday, Sept. 15. After party is at the Ramada Tucson on The Loop, 777 W. Cushing St. Free.
Details Here.
Artist Boutique Blowout
. Head on over to the Whistle Stop Depot, a steel warehouse that was renovated with recycled, and handmade materials, giving the whole place an artsy vibe, for an event that has even more of an artsy vibe. Unique and one-of-a-kind art from local artists is on sale for anywhere from 10 to 90 percent off regular price, and it's all under $100. They've got paintings, jewelry, metal art, crochet, pottery and even art supplies for you to take home and make your own art. Ben's Bells will be there too, and so will the BurgerRito food truck, cocktails and live music. Don't miss vendors like WATTO Distinctive Metal Wear, Red Collar Press and Zinnia Sky Studio. 5 to 9 p.m. Saturday, Sept. 15. Whistle Stop Depot, 127 W. Fifth St. Free.
Details Here.
Mexican Independence Day Fiesta.
Whether you're truly celebrating the Cry of Dolores that began the revolt against the Spaniards and the Mexican War of Independence back in 1810, or you just want to enjoy some good food and drink, head over to Barrio Santa Cruz for this celebration. Live music, plenty of food booths, a car show and folkloric dancers will all be on hand, as will activities for the kids. Councilwoman Regina Romero and the Mexican Consulate will be there, and so should you! Noon to 6 p.m. Saturday, Sept. 15. Ormbsby Park, 899 W. 24th St. Free.
Details Here.
Roller Derby Double Header.
As if roller derby wasn't serious and suspenseful enough, this week we have a Tucson Vs. Tucson game, where the Copper Queens and VICE squad will face off! Then, the Bandoleras will take on the UA's Derby Cats as well. Local superstars Miss Olivia and the Interlopers are providing the live music, and a portion of ticket proceeds will support Tu Nitido. Food and drink are available from the Tucson Indoor Sports Center, and if you're the type of person whose appetite is tied to their suspense levels, you're gonna get hungry. First bout starts at 6:30 p.m., but doors open at 6, on Saturday, Sept. 15. Tucson Indoor Sports Center, 1065 W. Grant Road. $15 at the door. Presale tickets are $10 for adults and $5 for kids 11 to 17. Kids under 10 free with the purchase of an adult ticket, and discounts are available for groups and military. $20 VIP tickets get you right up to the jam line.
Details Here.

Marion Woodman: Dancing in the Flames.
In memoriam of Woodman, who died earlier this year, Grace St. Paul's Episcopal Church is screening a documentary on one of "the 100 most spiritually influential living persons." Woodman was a Canadian author, poet and scholar on the dream theory of Carl Jung. Featuring a post-film discussion with the Southern Arizona Friends of Jung. 6:30 to 9 p.m. Saturday, Sept. 15. 2331 E. Adams St. $11.
Details Here.

Like Heaven.
Full of heart and humor, this play by award-winning playwright and UA professor Elaine Romero tells the story of four women from Independence, Kansas, who learn there's no place like home. Protagonist April dreams of being a blues singer, but she's got a sister who needs her and a friend who is always on her back about being prepared for the afterlife. When she meets a mysterious stranger, April realizes she may have found a way out. Romero is a former William Inge Playwright-in-Residence whose plays have been performed at the Eugene O'Neill Theater Center, the Goodman Theatre and other theaters across the country. Sunday, Sept. 16 through Sunday, Oct. 7, with shows at 7:30 p.m. and 1:30 p.m. on varying days. UA Arizona Repertory Theatre, 1025 N. Olive Road. $17.
Details Here.
Return to Oz
. Alongside Watership Down and The Dark Crystal, this stands as a pinnacle of the disturbing children's movie genre. It starts with Dorothy getting electroshock therapy, and only gets darker from there. This film wasn't received well back when it debuted in the '80s, and the grainy puppetry and steampunk claymation have only gotten weirder over time. The Loft Cinema invites you in for some nightmares! 7:30 to 9:30 p.m. Sunday, Sept. 16. 3233 E. Speedway Blvd. $6.
Details Here.