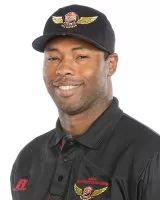 Longtime NFL cornerback Marcus Coleman will man the sidelines next spring for the inaugural Indoor Football League season in Tucson.
Coleman, who spent more than a decade playing at the game's highest level, racked up 517 tackles and 25 interceptions over the course of his professional career with the New York Jets, Houston Texans and Dallas Cowboys. Before coming to Tucson, he worked as the defensive coordinator of the Iowa Barnstormers, who won last year's IFL Championship.
The 44-year-old Texan was selected by Tucson Indoor Football owner Kevin Guy, for his mixture of on-field acumen and leadership abilities.
When the search for a head coach was launched, Guy said the organization wanted to find a leader that could "take us where we wanted to go."
"I am confident we have found that in Marcus Coleman," Guy said. "He has been preparing for his entire career, and he is ready for the responsibility and its challenges."
Coleman expressed his own excitement when discussing the first season of Tucson Indoor Football this fall, having played in-town during his college career at Texas Tech University in the mid-90s.
"It means a lot to be here," Coleman said. "Having the opportunity to put your stamp on something, bring your philosophy and, hopefully, build a winning tradition. It's about building that foundation, not just for myself while I'm here, but also for whoever comes after me."
Coleman believes Tucson has the right type of demographics as a college city to work well with the league, comparing it to cities in Texas that he knows well.
He said the region reminds him of Lubbock, San Antonio and Austin, "kind of rolled up in one," "Every time that I've come here, people have always been great and it's always been a great experience for both me and my family," he said.
Coleman's first season as a coach was in 2016, when he worked as a defensive backs coach with the Tri-Cities Fever.
He was originally drafted in the fifth round of the 1996 NFL Draft by the Jets, after spending four seasons as a defensive back with the Texas Tech Red Raiders. Coleman was inducted into the Southwest Conference Hall of Fame last year, recognizing his on-field impact during his college career, where he recorded 9 interceptions, four of which were returned for touchdowns.
Coleman is hopeful that Tucson will welcome the new team with open arms, embracing the organized chaos that is indoor football.
"You get to share that bond with the community and bring something new to the City of Tucson," he said. "Hopefully, I can build that bond and strengthen the relationship that we have right now and make it even stronger going forward."
The Tucson indoor football squad's name-the-team contest concludes at 5 p.m. on Sept. 12, with the squad's logo and name being unveiled officially at an event on Sept. 18.
More information at tucsonindoorfootball.com or by following @TucsonIndoorFB on Twitter or on Tucson Indoor Football on Facebook.