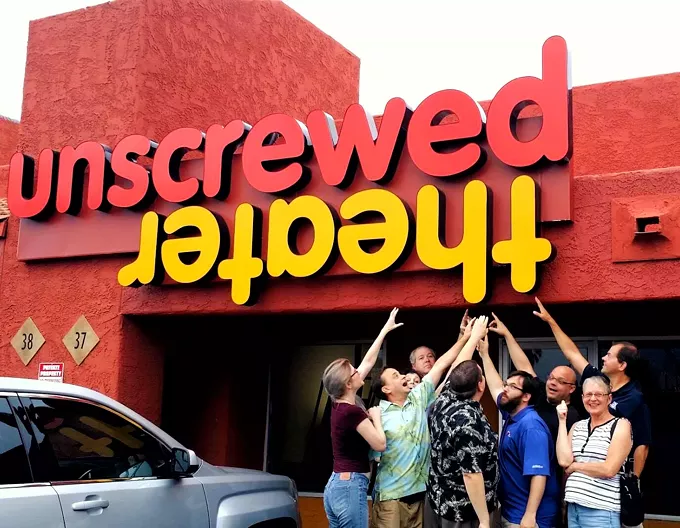 Unscrewed Theater reopens with a month-long series of special events beginning the weekend of September 7 and 8.
"After months of construction and hard work, we are beyond excited," says the theater's executive director Chris Seidman. "We have a door that faces the street, loads of parking and a giant sign to light the way." The new theater is located at 4500 East Speedway Blvd, #39.
After Unscrewed moved last spring, loyal fans supported its improv teams in pop-up shows hosted by the new theater's neighbors in Midway Business Park: Dedicated Bakery and Mama's Famous Pizza & Heroes.
Volunteers spent a weekend painting the theater's walls with bright, bold colors donated by Southwestern Paints. Other architecture, moving and construction expenses are being funded through an ongoing Indiegogo campaign run from
unscrewedtheater.org
.
The theater is hosting a free, public open house at noon on Saturday, Sept. 8. Seidman says Tucsonans can "get a peek of what's inside, grab a snack, and mingle with the cast members."
The theater's debut performance is a 90-minute, family-friendly show and ribbon cutting, featuring Mayor John Rothschild at 7:30 p.m., Friday, Sept. 7. Also featured are Unscrewed house teams NBOJU and From the Top.
A 90-minute, uncensored show at 7:30 p.m., Saturday, Sept. 8 features a second ribbon cutting and Tucson Sentinel publisher Dylan Smith.
The celebration continues Friday, Sept. 14 with three shows: a free student showcase at 6 p.m.; a family-friendly improv show featuring Nancy Stanley, founder of The Estrogen Hour; and the return of Unscrewed's popular Free Form Friday, which Seidman likens to "an open mic for improv teams" from all over town.
David Fitzsimmons is the guest star for a family-friendly 7:30 p.m. show and an uncensored 9 p.m. show on Saturday, Sept. 15. Highlights of the rest of the month are the debut of two new house teams, Leaky Faucets and Comic Chaos, at 9 p.m., Saturday, Sept. 22, and members of Tucson Roller Derby in both the 7:30 p.m. family-friendly show and the 9 p.m. uncensored show on Saturday the 29.
Shows are $5, unless noted as "free." Tickets and a complete schedule are at
unscrewedtheater.org
or at the door.
Burlesque 'till You Drop
Here's how deep our town's burlesque bench is: On Sept. 7 at 9 p.m., fans must choose between two of the biggest burlesque productions of the year. Tucson Libertine League Presents: Dark Days of Disco! At 191 E. Toole ($10 advance via ticketfly); and a Burlesque Favorites show is at the Surly Wench ($10 at the door.)