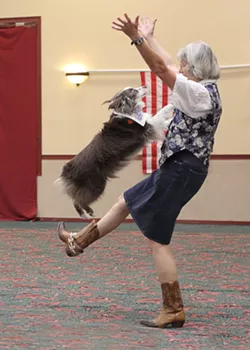 The Tucson Musical Canine Freestyle Club is looking for a practice space for three hours once a week.
The club began in 2004 with about 12 people and their dogs. Behaviors, such as 'sit' and 'jump' are incorporated into 2-3 minute dance that emphasizes the bond between the canine and their handler. Janet Bain has been involved in the club since 2004 and has taught multiple dogs how to freestyle.
"Dogs can learn how to freestyle at any age," said Bain, "with gentle means, they will learn quicker."
Bain is a strong believer in using a clicker, a device that is used to train dogs. It makes a loud clicking noise and is meant to be used when the dog is doing the correct behavior- such as sit.
The club performs at retirement homes, for the Make A Wish Foundation, The United Way and many more. This year they will have the opportunity to compete at the WCFO Southwest Salsa National Competition. This is an event sponsored by the World Canine Freestyle Organization.
This year the event will be held in Tucson, at the Double Tree Suites Hotel by Hilton near the Tucson airport at 7051 S. Tucson Blvd. The event will be on November 2 and 3 from 8-4 p.m. and is a free event. Anyone is welcome but dogs are prohibited to avoid distractions for the performing canines.
Although it is a fun experience, the most satisfying part for Bain is knowing that her and her dog have such a close connection that they are able to perform and show off their love for each other.
"The most important things is it celebrates the bond between the dog and their handler through music and dance," said Bain.
Bain has not decided if she will be competing yet as she is a fan of demos over competitions.
Tucson Musical Canine Freestyle Club had used the same practice space for 10 years but after the economic downturn, it became more difficult to find a practice space, according to club organizers. They jumped from a bowling alley to a dog training center to a church.
Currently, the club practices at a church who is charging a small fee for their usage. The church space is 1200 square feet but does not have air conditioning or carpet. The competition ring is 2,400 square feet with carpet floors and air conditioning. Although the church is not the perfect practice center, club organizers said they are grateful that the church is letting them utilize their space until they find bigger practice space.
Bain and the Freestyle Club are still looking for a larger place to practice. They would prefer it to be 40 x 60 square feet, with carpet flooring and air conditioning. They are also looking for a place with reasonable rates as they are not paid for demos. If anyone interested has an available space you can contact Janet Bain by email at shunka415@aol.com