Bike Art Auction
. The Sonoran Desert Mountain Bicyclists are holding this auction at the Catalina Brewing Company for all things bicycle art! David Grant is the featured artists, but you'll also see works from Rudi Cycling Art, Bicibits, Lisa Reeves, V. Valdez Photography and DukesSaguaros. Artists will donate part of their sales for the night to SDMB, and Catalina Brewing Company will donate $1 per pint between 6 and 9 p.m. SDMB hopes to use the funds to build some new trails. Plus, the Jersey Grill food truck will be on hand serving up hoagies. There's bike art! There's brews! There's Boar's Head meat! Don't live with the regret you'll feel if you decide to sit this one out. 6 to 9 p.m. Thursday, Aug. 30. Catalina Brewing Company, 6918 N. Camino Martin, #120, Marana.
Details here.
Wonders of Worlds–Real and Imaginary.
A new month means a new show from the Wilde Meyer Gallery, and this time around they're focusing on work that transports you away, both visually and mentally. With works that emphasize the beauty and wonder of good ol' nature as well as secret invented places created by artists, this is an exhibit with an effect that's almost as good as an actual weekend getaway. You'll see works by Linda Carter Holman, Ka Fisher, Connie Townsend and Andrea Peterson, just to name a few. Showing throughout September, 10 a.m. to 5:30 p.m. Mondays through Wednesdays and Fridays through Saturdays, 10 a.m. to 7 p.m. Thursdays and 1 to 4 p.m. Sundays. Don't miss the art walks from 5 to 7 p.m. every Thursday as well. Wilde Meyer Gallery, 2870 E. Skyline Drive. Free.
Details here.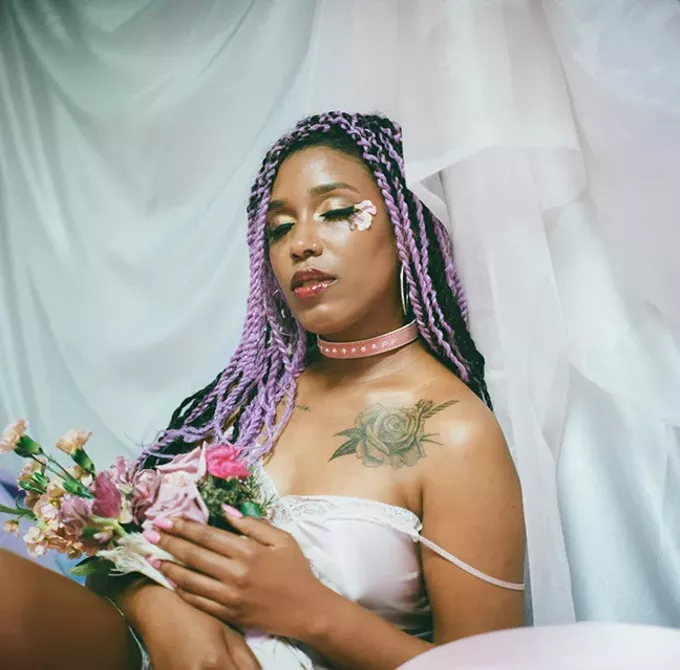 Mhysa
is more than just another angry black woman. "I'm not giving up my rage/But I need joy so much more." An established sound and performance artist with Philadelphia's SCRAAATCH, Mhysa's solo effort, Fantasii, honors Black history, is influenced by femme empowerment, and twinkles with spiritual transcendence. Working from her rich Philadelphia roots, Mhysa samples her grandfather's blues and blankets them in a shimmering layer of synth and chimes in "Glory Be Black." Later, she summons the sexual musicality of heroes Donna Summers and Janet Jackson in the strip-club banger "Strobe." Working within the EDM idiom, Mhysa weaves and samples disco, R&B, rap, ambient and techno influences together, creating a language of inter-textuality across decades of dance club floors. This is substantial and important black music, soulful and ethereal at once, created by a woman who has survived struggle to arrive at a well-earned higher place. Thursday, Aug. 30, HOCO Fest, Hotel Congress, 311 E. Congress. $20. 16+. hocofest.com. —B.S. Eliot.
Details here.
Bear Down Fridays. Welcome back, Wildcats! Get down to Main Gate Square to celebrate the kickoff of the 13th season of Bear Down Fridays, where local restaurants and stores offer food specials, happy hour pricing, discounts, giveaways and themed activities. Every Pep Rally begins at 6 p.m. with the Pride of Arizona Marching Band, UA Poms, Twirlers and Flags, plus plenty of other UA guests. It's Tucson's way of begrudgingly saying, "school's back in session." 3 to 7 p.m. Friday, Aug. 31. 814 E. University Blvd. Details here.

Events compiled by Emily Dieckman, B.S. Eliot, Ava Garcia and Jeff Gardner.