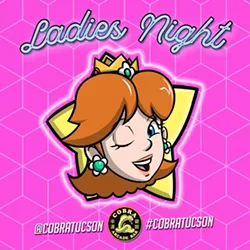 Ladies Night at Cobra Arcade Bar.
Peach, Samus, Bayonetta, Yuna: what do all these names have in common? (Other than the fact that you'd probably disappoint your parents by recognizing them.) They're all badass video game heroines! And Cobra Arcade Bar is celebrating ladies both digital and analog by giving out free tokens to ladies all night. And not just this Wednesday, but every Wednesday! Now all that money you're saving on gaming can go into game fuel (alcohol). 4 to 7 p.m. Wednesday, Aug. 29. 63 E. Congress. No cover charge. 21+.
Details here.
The Swingin' Utters.
For the last quarter century, The Swingin' Utters have been burping up two-minute working-class anthems on punks and shucks across the globe. Not exactly The Clash or Sham 69, more Flogging Molly and a touch of Op Ivy. See, The Swingin' Utters pair Celtic gusto with Santa Cruz grit. The resulting catalogue is well worth drinking, smoking and bruising in the pit to celebrate—consequences be damned. After a seven-year hiatus, frontman Johnny Bonnel came back, um, swinging, spitting and sometimes even crooning his way into the next generation's heart, with three new long-players and the, dare we say, killer single, "Undertaker, Under Take." Bonnel's gotten a touch more kinder/gentler with tunes like the acoustic folkie "Glass House," but he's managed to age with the same verve and authenticity that keeps classics like "Pills & Smoke" in our heads, "Some think I'm angry and mean, hell I'm only 18." With The Endless Pursuit, Lost in Society, and Bordertown Devils on Wednesday, August 29. 191 Toole. Doors at 7 p.m. $13-15. 21+.
Details here.

Game Night at Casa Marana.
What better way to celebrate the midpoint of the week than with beer and giant Jenga? Starting at 5 p.m. Casa Marana will bust out the games, including Cornhole and chess. You are also welcome to bring games from home to play while you enjoy a cold one and munch on food from Caroles Up In Smoke BBQ food truck.
Details here.


Events compiled by Emily Dieckman, B.S. Eliot, Ava Garcia and Jeff Gardner.