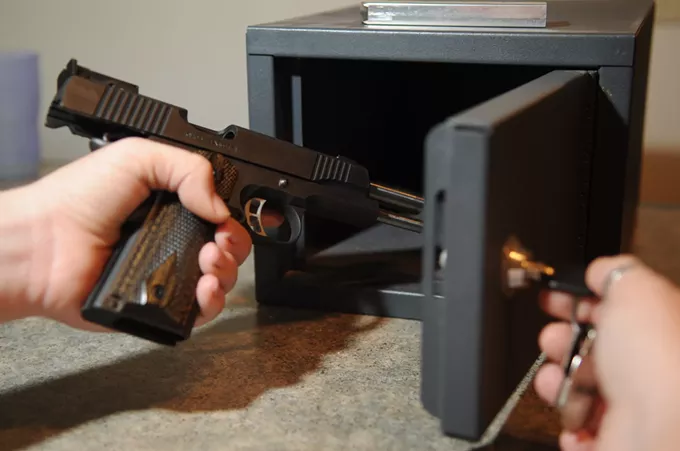 Tucson Police Department is changing their guidelines on how officers are required to store guns when off duty, highlighting how other law enforcement departments match up.
The new guidelines, being adopted this week, say that officers "shall ensure that all firearms and ammunition are locked or safely secured while in their homes, vehicles, or any other area under their control in a manner that will keep the firearms inaccessible to others who should not be allowed to access them."
The guidelines also say that off-duty officers can't leave their firearms in a vehicle for more than 10 consecutive hours and that no unauthorized person may handle an officer's department-issued firearm. And perhaps the most significant part, the new rules add that "negligent storage of a firearm could result in criminal and civil liability."
TPD's previous rules around gun storage simply said: "Members shall not damage, abuse or lose any department property entrusted to them….Items such as firearms, identification cards, key cards, badges, and radios require a greater degree of care. Officers shall evaluate what arrangement best ensures the safety of the community under the given circumstances."
Tucson City Councilmember Steve Kozachik asked the department to look at their rules after he heard the story of a woman whose daughter committed suicide with an officer's duty weapon.
In the summer of 2009, Rebecca Sturman's daughter, 22-year-old Chelsie Raidiger, was living with her boyfriend, an Oro Valley police officer, when she used his gun to shoot herself in the heart.
According to
Tucson Weekly archives
, at the time, OVPD's policy on securing duty weapons was this: "Members of the department shall at all times handle and safeguard firearms and other weapons consistent with department training. Officers shall be responsible for the security of their weapons. Weapons shall not be left unattended in public view."
After her daughter's death, Sturman was pushing for OVPD and other local departments to strengthen their rules around safe firearm storage but says local officials told her it would never happen. She says seeing law enforcement strengthen their firearm storage rules is a huge success.
"I just hoped for that change, so other people don't have to experience this," she said. "Had those laws been in place, maybe she'd still be here."
It wasn't until 2012 that OVPD started looking at making a change and in 2015 that they implemented new rules, according to Lt. Curtiss Hicks. The current policy, which Hicks says has had slight changes since the 2015 update, is almost identical to the first part of TPD's policy, that officers are required to lock and secure their firearms and ammunition and not allow access to unauthorized individuals.
OVPD's rule includes the part about negligent storage could result in civil liability, but leaves out the part about criminal liability. Hicks says this is just legal jargon created by the policy management software that creates their general rules.
As far as how an officer locks up their firearm, Hicks says that is left up to the officer's discretion. TPD also leaves it up to an officer's discretion, but suggests a firearm safe, lock box, trigger or camber lock, or workplace locker in the new general rules.
The rules around off-duty firearm storage at other local law enforcement agencies is more vague. The Sheriff Department's only rules that could relate to off-duty firearm storage simply state: "Department members shall be responsible for: The care, cleaning, and security of personal and Department firearms and associated items issued to them," as well as "Firearms shall not be unnecessarily drawn, displayed, or carelessly handled at any time."
Marana's orders include that all firearms "shall be handled and stored safely and securely, both on and off duty," as well as being kept out of view, out of the reach of children and secured in a safe location.
Kozachik echoes Sturman's call for more specific rules on storage requirements and consequences in case of negligence. But MPD Public Information Officer Chriswell Scott says the force's rules and regulations are sufficient just as they are.
TPD Chief of Staff Michael Silva says the department had been looking into changing their general orders for some time, actually since the OVPD incident. TPD's in-house lawyers with the Pima County Attorney's office conferred with colleagues throughout the state to decide on the new rules.
Silva said while there haven't been any negligence that would result in criminal liability at TPD, they've noted such instances in other parts of the country.
"There's a world of possible scenarios, some that could be pretty terrible," he said. "Even though a remote possibility, if the wrong set of circumstances could take place, it could be a criminal liability."
Silva says TPD is always looking to update policies to stay current. He noted that other policies TPD looked at varied widely, with some jurisdictions leaving the issue of safe gun storage pretty open.
Sturman just hopes that if something like what happened to her daughter ever happens again, the officer responsible for the gun is held accountable.
"Him leaving his gun fully loaded with her, and going out of town, wasn't for her to have," she said. "You need to be held responsible. You need to be held accountable for your actions."