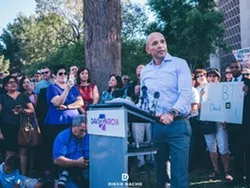 David Garcia was announced winner in the Democratic primary gubernatorial race. Tucson Unified School District Boardmember Kristel Ann Foster spoke on his behalf at the Pima County Democrats election party.
She said he thanks his two opponents, Steve Farley and Kelly Fryer, for
raising important issues and making him a better candidate.
"And we can't do this without them, and we can't do this without you," she said. "Arizona has declared that it's ready for vision over division."