Friday, Aug. 24
Southern Italy Wine Dinner.
So you might not be able to travel the Southern coast of Italy whenever you want, but with this event at Maynard's Market & Kitchen, you'll get to try the area's food and wine—and really, what else do you need? There are three courses that include smoked eggplant, bluebeard durum cavatelli, grilled apricot and plenty of wine. 7 to 9 p.m. Friday, Aug. 24. 400 N. Toole Ave. $78. Purchase tickets online.
Details here.


Contentment: A Public Talk.
If there's anyone who knows about peace of mind and contentment, it would probably be an internationally renowned Kadampa Buddhist Monk. And that's exactly who is leading this workshop. More specifically, it's Gen-la Kelsang Khyenrab, in from Canada, where he's the spiritual director and resident teacher at the country's Kadampa Meditation Center. He'll talk about how all the difficulties we have in our relationship with others actually stem from ourselves: We don't know how to be content. And then he'll share some methods for finding your way to peace of mind that lasts. Sounds at least worth hearing, right? 6:30 to 8 p.m. Friday, Aug. 24. Kadampa Meditation Center, 5326 E. Pima St. $20 in advance, $25 at the door.
Details here.

Bad Bunny.
Thick-tongued Puerto Rican Spanish offers a Caribbean uplift to Bad Bunny's trad street trap. Benito Ocasio, aka Conejo Malo (Bad Bunny) opens his corazon and a floodgate of pining and regret pours fourth. This one's into fessin' not frontin', a lover not a fighter all the way down that well-straddled reggaeton-trap line. On "Estamos Bien," Conejo Malo rises to sing, not to sling and though he is vo-coded it's more reflective of a lovesick sweat than a coked-out bender. The romance language raices run deep and Bad Bunny takes full advantage of the sonic beauty of his native tongue. "Ya me cansé," he is already too tired of playing games. Every breath catch feels like Michael Jackson meets John Legend, as hypnotic string and piano strikes swaddle his voice with melody. He is turning ghastly trap on its head; this could be a love/sex/sweat/dance music for the ages. 8 p.m. Friday, Aug. 24. Tucson Convention Center, 260 South Church Ave. $39-$100. All ages.
Details here.
Day Trip & Pawjama Party Orientation.
If you really feel like you need a reason to head over to the Pima Animal Care Center on a Friday evening, other than to coo over all the cute pets, consider this free orientation that briefs participants on the shelter's programs that allow you to take a dog out for a day trip, or home for a sleepover. It's a great way to help the animal shelter when it gets full, and for you to get a feel for what sort of pet personality fits best with your lifestyle. What could be cuter than a pawjama party? 6:30 to 7:30 p.m. Friday, Aug. 24. Pima Animal Care Center, 4000 N. Silverbell Road. Free.
Details here.
Fourth Annual Women in Business Conference and Ball.
Empowered women empower women! At this year's conference, the theme is "Collaboration, NOT Competition: The Future of Women in Business," and it focuses on providing tips and resources for collaboration using communication, trust and recognition of a common goal. More than 300 individuals, entrepreneurs, corporate executives and businesses from across the Tucson area and the whole United States will be there, and you should be too. Hear experts speak on how your competition can help you excel, how you can win business through collaboration, how to get organized and how to be a good leader. 1 to 9 p.m. Friday, Aug. 24 and 7:30 a.m. to 7 p.m. Saturday, Aug. 25. Tucson Convention Center, 260 S. Church Ave. $25 to $197.
Details here.
Saturday, Aug. 25
'90s Bar Crawl Tucson AZ.
Well, the title pretty much says it all, doesn't it? Bleach your hair tips, throw on a bunch of denim, pluck most of your eyebrows away and prepare to get slimed, because tonight is all about one of history's finest decades. Maloney's, the Funky Monk, Playground, Series 19, The Warehouse and more TBA will be participating. Your ticket includes exclusive '90s-themed drink specials, a photobooth at registration and a '90s-themed after party at The Warehouse. The first 25 people in line get limited swag. You'd better start practicing the Macarena. 5 to 11 p.m. Saturday, Aug. 25. Maloney's Tucson, 213 N. Fourth Ave. $15 to $69.
Details here.

Free Family Fun Day at Cactus Bowl.
It's youth bowling season! To promote their youth bowling program, which starts on Sept. 8, Cactus Bowl is hosting this family fun day with free bowling, free pizza and free soda (boy, do they know the way to a person's heart). There will also be door prizes, raffle prizes, a bowling pin decoration station and a photo booth. And it's the perfect time to register your little bowling enthusiasts for their youth program, where they can grow and thrive in a supportive and encouraging environment. 9 a.m. to noon. Saturday, Aug. 25. Cactus Bowl, 3665 S. 16th Ave. and their three other locations. Free.
Details here.
Rodrigo y Gabriela.
With just two Flamenco guitars, Rodrigo and Gabriela manage to channel and send up an entire Latin espectáculo, no drummers, dancers, singers or fancy costumes required. First, she is the rhythm, teasing and building tension around his artful, showy lead. Then they switch and she furthers the melody, filling in his ritmo with her perfectly-picked cumbia, flamenco, jazz and even heavy metal. He takes control once more and she answers with stomps, knocks and vocal ah-ha's, a percussive climax so heavy they were forced to cancel tours from resulting stress injury. One can anticipate the other's response before a note is ever sounded, so they carry the torch of classic Flamenco music to major motion picture soundtracks and private concerts for the President. But really it is Rodrigo and Gabriela's open hearts as much as their technical prowess, that bring to vibrant life the beloved music of Spain, by way of modern Mexico. Doors at 7 p.m. Saturday, Aug. 25. Rialto Theatre, 318 E. Congress. $40-$54. All ages.
Details here.
The Birthplace of Jazz and so Much More: New Orleans Music and Culture.
Chances are, you've enjoyed a jazz song or two in your time. Or you've eaten jambalaya. Or you've gotten wasted for Mardi Gras. Maybe all three. Maybe all three at once. This two-part class will teach you all about the origins of jazz, the unique history of Congo Square, Storyville's red-light district, the pageantry of the Mardi Gras Indians, jazz funerals (they're a romp) and early rock 'n' roll history, just for starters. Put on your thinking caps, and, of course, your jazz hands. 11 a.m. to 12:15 p.m. Saturday, Aug. 25 and Saturday, Sept. 1. Joel D. Valdez Main Library, 101 N. Stone Ave. Free.
Details here.
The Game Show Show + The Laugh Tracks.
Head on over to Tucson Improv movement for another night full of laughter, snacks and prizes that they expressly admit are not fabulous. House musical improv team The Laugh Tracks opens the evening, making up songs based on your suggestions that may or may not be stuck in your head forever. The Game Show Show pits contestants against each other in an improv show, which is where the un-fabulous prizes come in. And it's a family-friendly event! Let's get ready to chuckle! 7:30 to 8:30 p.m. Saturday, Aug. 25. 414 E. Ninth St. $5.
Details here.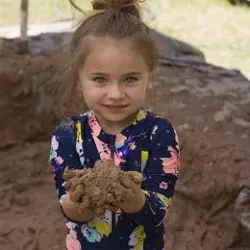 Nature Play at Reid Park Zoo.
Nature Play is a monthly play-based program at the zoo sponsored by Summit Hut. And we think all of us could use a monthly play-based program in our lives, couldn't we? This month's program is going to sound (maybe painfully) familiar, as the theme is "It's a Bright and Sunshiny Day." We all know the summers around here can sometimes be a little TOO bright and sunshiney, and the zoo is coming through with mud, water and shade to keep us all cool. Stop by to see what activities you can enjoy outside, even in this heat! 8:30 to 11:30 a.m. Saturday, Aug. 25. Free with zoo admission, which is $10.50 for adults ages 15 to 61, $8.50 for seniors 62 and up, $6.50 for kids 2 to 14 and free for kids 1 and below.
Details here.

Sangria & Salsa Festival.
Wait a minute, we just finished up with the Margarita Festival, and now we already have a sangria and salsa fest? Tucson really is great! Beat the heat by heading down to the Tucson Convention Center and trying the 35 different sangrias and assorted cocktails, beers, rum and tequila. Plus, there will be plenty of chips and salsa to boot. And if that's not enough, there's also plenty of salsa music too. 4 p.m. Saturday, Aug. 25. 260 S. Church Ave. $25. Purchase tickets online.
Details here.
OAF–Back by Popular Demand.
The Scoundrel and Scamp Theatre is kicking off their 2018-2019 season with the return of the character OAF—a lovable carnival strongman trying to escape his day job, played by Matt Walley. Directed by physical theatre creator Wolfe Bowart, it's one of Scoundrel & Scamp's most popular productions to date, and his been described as "funny. Very funny." Part of the theater's "Season for Scamps" show, it's suitable for ages 5 through 105—in fact, a disclaimer at the top of their event description reads "Not intended for mature audiences." 7:30 p.m. on Friday, Aug. 24, 7:30 p.m. on Saturday, Aug. 25, and 7:30 p.m. on Sunday, Aug. 2. Scoundrel & Scamp Theatre, 738 N. Fifth Ave. $28 GA, $20 for those under 30, $15 students and teachers and $10 for kids 10 and under.
Details here.
BearDownFest.
If you're not a college student, brace yourself: The college students are coming back! If you are a college student, welcome back! This UA welcome week pool party will be the perfect way to get back into the swing of the school year. About 1,000 of your classmates will be there raging to sounds by @djyourstrulyradio and more. Hey, college is the time where you've got to live it up. Plus, you'll be doing your civic duty by getting to know your classmates and neighbors. 2 to 7 p.m. Saturday, Aug. 25. Hotel Tucson City Center, 475 N. Granada Ave. $10.
Details here.

Cool Summer Nights at the Desert Museum.
Happy Teacher Appreciation Night! All of Tucson's beloved teachers get free admission and 10 percent off in the museum gift with a teacher ID (or if your school doesn't do ID badges, bring a letter from a principal or other administrator on school letterhead verifying you're a teacher). Plus, books and posters from the museum's backlist are available free to teachers! Special events of the night include two 30-minute "Desert Survivor" presentations about some of the desert's most fascinating creatures and a talk from Svea Anderson, a STEM Coordinator and local teacher, who just got back from the Arctic Circle researching the effects of climate change. As always, check out docent stations, the stingray touch exhibit and the Packrat Playhouse. 5 to 10 p.m. Saturday, Aug. 25. Arizona-Sonora Desert Museum, 2021 N. Kinney Road. $22 GA, $20 seniors 65 and up, $9 kids 2 to 12, $18 military, $17 Arizona/Sonora resident.
Details here.
¡Three Amigos!
Just following Steve Martin and Martin Short's comedy show in town, Old Tucson is hosting a free screening of the 1986 comedy, which was made right here in the Old Pueblo. The Martins join up with Chevy Chase to make damn fools of themselves, and we have a damn good time watching! But this is more than just a movie screening; there will also be a live musical performance by Tucson band Reyno Norteno before the movie, a piñata bust and photo-opportunities. You'll have so much fun both you and your exclamation marks will flip! 7:30 to 10:30 p.m. Saturday, Aug. 25. 201 S. Kinney Road. Free. Please bring your own seating.
Details here.
20,000 Leagues Under the Sea.
The Fox Theatre invites you on an adventure alongside Kirk Douglas and Peter Lorre. There are giant sea monsters, Victorian-era technology and all the wonders of Jules Verne's imagination. Fun fact: The 20,000 leagues refers to horizontal distance traveled under the ocean's surface, not distance traveled directly down. (If you went 20,000 leagues straight down in the sea, you'd go straight through the Earth and out the other side.) 7:30 to 10:30 p.m. Saturday, Aug. 25. 17 W. Congress St. $5.
Details here.
St. Philip's Plaza Farmers Market.
Another weekend, another farmers market. Consider checking out St. Philip's over on Campbell this Saturday, where Bakehouse Bread will be tabling. Of course, there will also be fresh fruits and veggies, jars of preserves, food designed to eat on the spot (we're being specific because odds are high that you're just going to want to eat all of the food you see on the spot) and lots more. You can stay out as late as you want partying Saturday night and feel just fine about it, because you started your day off right by supporting local farmers and enjoying fresh fruit. 8 a.m. Saturday, Aug. 25. St. Philip's Plaza Farmers Market, 4280 N. Campbell Ave.
Details here.
Sabbar Shrine 2018 Corn Fest.
What food festivals doesn't Tucson have?? Our local Sabbar Shrine Center is cooking up both a barbeque bonanza AND a corn fest. Either way, you'll be getting some good, hearty cooking for these summer afternoons. 4 to 8 p.m. Saturday, Aug. 25. 450 S. Tucson Blvd.
Details here.
Green Chile Roast at Apple Annie's.
Another weekend, another trip to Apple Annie's, where they'll have lots of free samples of both roasted and fresh green chiles, and plenty of both for sale as well. Fresh roasted green chiles are bagged in either quart- or gallon-sized bags. You can also throw some roasted green chiles onto your burger at lunch, Or, if you buy 40 pounds of green chiles, jalapenos, poblanos or any other chili they grow (they grow eight different kinds), then they'll roast them all for you for free! And don't miss out on the delicious green chili ice cream they have available for purchase... no, that's not a typo. Green chile ice cream. 7 a.m. to 5 p.m. Saturday and Sunday, Aug. 25 and 26, and Saturday, Sept. 1 through Monday, Sept. 3. Apple Annie's Produce Farm Location, 6405 W. Williams Road, Willcox.
Details here.
Sunday, Aug. 26
Free Stress-Free Workshop.
If you give a stressed-out person a margarita, they'll be stress-free for a day (or less). If you give a stressed-out person a Hatha Yoga workshop, they'll come away with some techniques and tools for stress management that could last a lifetime. Mary James from the Yoga Connection will be teaching yoga poses to rejuvenate the body, breathing practices to calm and restore the mind and meditation and visualization to calm and center the spirit. These techniques can be used to develop an awareness of what elicits a stress response, so you can know immediately how to cope with or relieve it. Hooray! 11:30 a.m. to 1 p.m. Sunday, Aug. 26. The Yoga Connection, 3929 E. Pima St. Free, but donations that benefit Habitat for Humanity are greatly appreciated.
Details here.
Bingo! At the Shrine!
If you haven't had the full-body adrenaline rush that comes with frantically scanning a bingo card to see if you have a winner in more than a few months, it's time to live a little. If you're feeling lucky, or if you're just feeling like having a blast, head over to the Sabbar Shrine Center, where the bar will be open for food and drinks, the auditorium will be open for game-playing and money-winning and your mouth will be open as you shout, "BINGO!" (The key is to believe that you're going to get a BINGO, and hope it becomes a reality). 12:45 p.m. Sunday, Aug. 26. Sabbar Shrine Center, 450 S. Tucson Blvd.
Details here.
Yoga for Derechos Humanos–donation class.
Nothing quite like the peace of mind you get after a good yoga sesh—except maybe the peace of mind that comes from going to a good yoga sesh AND making a donation to Coalición de Derechos Humanos, an Arizona grassroots organization that promotes the human and civil rights of all migrants, regardless of their immigration status. So head over to Floor Polish for this class with Marta, where all levels are welcome. Bring a mat, some water and a donation—or rent one of their mats if you want to. You can pay with cash or card. 10 a.m. Sunday, Aug. 26. Floor Polish Dance + Fitness, 408 N. Fourth Ave. Donation-based.
Details here.

The Great Silence.
One of the most influential yet underseen spaghetti westerns is the original Django, directed by Sergio Corbucci. But even that genre-defining film doesn't come close to Corbucci's masterpiece, The Great Silence. Now for the first-time ever, the legendary 1968 western comes to North American theaters in a newly-restored 50th anniversary edition at The Loft Cinema. Featuring a live introduction by filmmaker and genre expert Alex Cox (Sid and Nancy, Repo Man). Italian snacks will be available for sale at this screening, including cannoli from Fresco Pizzeria. Noon on Sunday, Aug. 26. 3233 East Speedway Blvd. $8.
Details here.
Splash & Dash for Kids!
The best part about a splash and dash, of course, is the implied "crash," during which you get to spend the rest of the day on the couch eating chips while your family marvels at your athleticism. This aquathlon series at the Tucson Jewish Community Center is open to athletes ages 7 to 15, and acts as a great way to meet fellow runners and swimmers. Ages 7 to 10 have a 100-yard swim and a 1.2-mile run, while ages 11 to 15 have a 200-yard swim and a 1-mile run. Check in at 6 a.m., and race starts at 7 a.m. Sunday, Aug. 26. Tucson JCC, 3800 E. River Road. $25 USAT members, $35 non-USAT members.
Details here.
An Evening You Will Forget for the Rest of Your Life.
You've probably had lots of evenings in your life that you've already forgotten for all time. But have you ever had one that featured Steve Martin and Martin Short in the flesh? Probably not? This evening full of stand-up, film clips, musical numbers and conversations about their lives in show business (what was it like for Steve Martin to play the iconic role of the dentist boyfriend in Little Shop of Horrors? Or for Martin Short to play the cunning Jack Frost in the Santa Clause 3?) also includes music by the Grammy-winning Steep Canyon Rangers and renowned jazz pianist Jeff Babko. (He's a member of the Jimmy Kimmel Live band too). It's sure to be a magical Martin-y night! 7:30 p.m. Sunday, Aug. 26. Tucson Arena, 260 S. Church Ave. $53 to $173+.
Details here.
Bahá'í Film Festival.
Around 7 million people worldwide form the Bahá'í Faith, a religion self-described as teaching the essential worth of all religions, and the unity of all people. The Loft Cinema is screening two documentaries on the faith, The Gate and Changing the World, One Wall at a Time. Including a Q&A discussion with The Gate's Executive Producer, Steve Sarowitz. Presented by Tucson Baha'is. Sunday, Aug. 26 at 2:30 p.m.
Details here.
Tucson Pride Pageant.
Here we go! The theme for this year's pride pageant is "Somewhere Over the Rainbow," which means that, if all goes according to plan, we'll be seeing lots of gorgeous Glindas (or Galindas, if you're a Wicked fan), dazzling Dororthys, marvelous munchkins and hopefully even some scarecrows, tin men, lions, Elphabas, wizards and flying monkeys. Contestants will compete in interview, presentation, evening gown/wear and talent categories, and onlookers are welcome to watch raptly. Be sure to bring your green-tinted glasses! 6 to 10 p.m. Sunday, Aug. 26. La Quinta Inn & Suites Tucson–Reid Park, 102 N. Alvernon Way. $10 to $100.
Details here.
Turquoise Jeep and Flynt Flossy.
Flynt Flossy and his record label mates at Turquoise Jeep grew up with tongue-in-cheek nasty-ass rap culture. Think Candyman "Knockin' Boots," and all those off-color Wayans Brother yucks. Flash forward 20 years and Flossie's gone viral, rhymin' of stretch pants for christssakes. His girl's got "Cavities with all that chocolate in your mouth," and when said mouth is not filled with his choad, she best shut it to hear his lame-ass excuses: "She don't compare to you/You're my lifie, Boo." Inscrutably ironic, one part Tone Loc, one part Peaches, Flynt Flossy uses humor and deceptively simple lyrics to call out what he's doing while making tasty retro cuts. "Drop It Low Like a Discount" indeed. Be it self-aware bangers, or sophomoric sex groaners, Flossie's irreverent genius could be to pre-gangster rap what Zappa's Cruising with Ruben & the Jets was to doo wop. With Yung Davon on Sunday, August 26. 191 Toole, 191 E. Toole Ave. Doors at 7 p.m. $12-$14. 21+.
Details here.


Events compiled by Emily Dieckman, B.S. Eliot, Ava Garcia and Jeff Gardner.