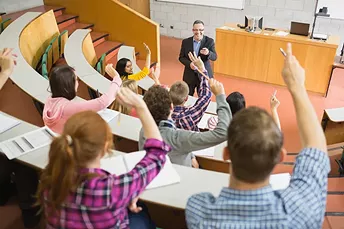 The University of Arizona College of Social and Behavioral Sciences is offering a new "Community Classroom" program this fall, where members of the community can learn from campus experts about a variety of topics. Such classes and discussions involve: Philosophy in Star Trek, how the digital age affects our humanity, the personal life of Cleopatra, and more.
The college offers three types of courses: UA Student-Community Courses, Lifelong Learning Seminars, and Professional Development Courses.
UA Student-Community Courses allows for you to experience the same lectures as UA students, only you don't need to worry about passing any tests. And at the same time, you get to meet and discuss class topics with UA students. Professors involve professor and linguist Noam Chomsky! Tuition costs $250.
Lifelong Learning Seminars offer a wide variety of topics, including the history of Tucson cinema, photography basics, and more. These classes are both on-campus and around Tucson. Tuition ranges from $90 to 120.
Professional Development Courses teach you career skills and allow you to work with Tucson professionals. Currently, the only planned class is for building a social media strategy. Tuition costs $240.
Registration details can be found at
communityclassroom.arizona.edu