Gary Steigerwald and Diana Muller Piano.
The fall arts season is upon us! Which means it's time to drop your jaw to the floor while you watch a pair of hands fly across a piano keyboard. Or, alternatively, you could watch TWO pairs of hands (married hands, no less!) fly across the keyboard in this Arizona Friends of Chamber Music show, where a husband-and-wife team will be playing Schubert, Mendelssohn, Daniel Asia and Ravel. Put on your fancy pants and prepare to be blown away. Wine and hors d'oeuvres (included with ticket) begin at 7 p.m. and the one-hour concert begins at 7:30 p.m. Wednesday, Aug. 22. Holsclaw Hall, 1017 N. Olive Road. $30.
Details here.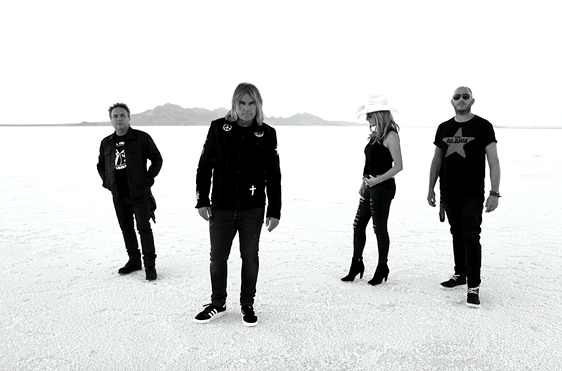 The Alarm
was to Wales what U2 is to Ireland—playing off the epic rock band bit, embedded with and reflective of the cultural signifiers of its homeland. Try hard and you can't fault the earnestness of The Serious Young Men. Quick backstory: founded four decades ago as punk band The Toilets, The Alarm quickly wove lotsa Clash into their songwriting, the Mick Jones-y guitars, the Joe Strummer sloganeering, the anthemic boot-stomp hooks and fist-jack vocal melodies. So they weren't the first to pen the singsong punk-inspired anthem, still, they were really good at it. Founding frontman Mike Peters has lived his adult life on the road, and the resulting rambles, built upon a workingman's love and losses—always with a singsong anthem in his big old ear—as varied and well-worn as The Boss. Now, Peters is re-imagining The Alarm's early work, updating the 1984's mighty song-driven Declaration for tenderer ears. (We can't forget their Brit chart-topper, "Sixty-Eight Guns," and the fantastic "Marching On," two songs The Clash absolutely wished they wrote. And here's hoping they whip out the later, and unironically brilliant, "Rain in the Summertime"). Recent live shows prove that post-cancer, Peter's voice stays strong, filled of youthful passion. And the tour contains unsung guitar hero James Stevenson (Chelsea, Gen X, Gene Loves Jezebel, The Cult). We ain't ageists around here and The Alarm remains a band worthy of (re)discovery. In fact, the heavy new album Equals is highly recommended too; it's absolutely ageless. With The Rifle on Wednesday, August, 22. 191 Toole, Doors at 7 p.m. $24. 21+.
Details here.
The Cat Video Fest–Summer Spectacular!
"Cats do not abide by the laws of nature"—Charlie Kelly. This is an encore presentation of the Cat Video Fest that screened at The Loft Cinema in December. And it's so much fun, they can't even contain the encore to one day! Turns out, people really like cats. Gather around to see some of the best cat videos from around the internet, and raise money for local shelters at the same time. Hosted by Hermitage No-Kill Cat Shelter & Sanctuary and The Loft Cinema. 7:30 p.m. Wednesday, Aug. 22 & 2 p.m. Saturday, Aug. 25. 3233 East Speedway Blvd. $8.
Details here.
Cardio Party-O! Dance Workout.
Dance your way over to Fourth Avenue to shimmy your troubles—and your calories—away. Hosted every Wednesday at Floor Polish by Marina, this class combines everything from old school hip hop to cumbia and from disco to Bollywood. All of the moves are unique but relatively easy to follow, so it's perfect for people without dance backgrounds, or just for people who hate the gym. It's less of a "gym rat" atmosphere and more of a "house party" vibe, which we didn't realize until this very moment is exactly what we're looking for in a workout. 5:45 to 6:45 p.m. Every Wednesday. Floor Polish Dance Studio, 408 N. Fourth Ave. $6 drop-in, or pick up a five-class pass for $25.
Details here.


Events compiled by Emily Dieckman, B.S. Eliot, Ava Garcia and Jeff Gardner.