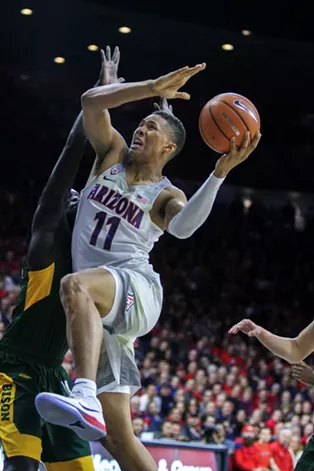 This story has been updated.
Arizona Wildcats sophomore forward Ira Lee was cited for driving under the influence in the early morning hours of Sunday, Aug. 19, according to a University of Arizona statement.
Lee, who averaged 2.4 points per game in 27 appearances as a freshman last year, may face repercussions from the school and team, depending on the course of a review by academic staff.
"The incident has been referred to the Dean of Students for review under the University's student code of conduct, and the Athletics Department is reviewing the incident for team consequences," the UA statement reads. "Students also have access to counseling and other support services."
According to Pima County Consolidated Justice Court records, Lee was cited for Failure to Yield, Minor Driving After Drinking and DUI Extreme BAC .20 or More at the intersection of 6th Street and Warren Avenue.
Lee is scheduled for a criminal arraignment hearing on Sept. 10, according to the court's report.
The University's athletics department would not release any additional information regarding Lee's citation.
The Wildcats open the 2018-19 regular season with their Red-Blue intra-squad game on Oct. 14, with their first game on Wednesday, Nov. 7 against Houston Baptist.