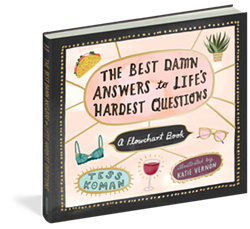 Dear Reader,
We, here at the Tucson Weekly, receive lots of mail every day and so in efforts of paying it forward, here is a letter to you about a book that landed in our mail box.
Every now and again some kind publisher sends us a book with the hopes and dreams that we will write a wonderful review therefore skyrocketing their book sales. We get many books and are not able to read and review every single one, but sometimes one catches our eye.
Well, today that book was "The Best Damn Answers to Life's Hardest Questions" by Tess Koman.
The little pink, brown and gold book is inviting with its sparkly cartoon taco, sunglasses and bra on the cover, and that is where you get sucked in.
First you start reading thinking you are too cool for group think. That there is no such thing as universal relatablility. And then you follow through the flow charts and realize that everything describes your life. Perfectly.
Now, I don't know if this is a good thing or a bit sad of a thing, but it is certainly the truth.
This book asks the real questions in life, such as is a bra really necessary? Should I buy a plant? Should I text *that person*? And perhaps, most pointedly, am I too old for this shit?
Cute and colorful flowcharts illustrated by the talented Katie Vernon help millennials, and maybe even everyone really, navigate through some of life's smallest yet most important decisions.
And after reading through Koman's advice, my advice for her? Go open that bagel shop! You clearly want to!
EXTRA: A little interesting note about the author is that she is the features editor at delish.com and the former web editor at cosmopolitan.com. Web editors often are pretty cool people.
- Tirion Morris, Web Editor