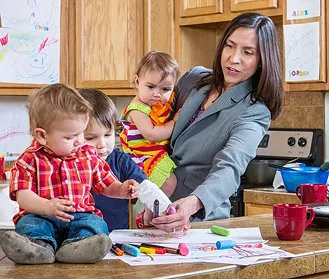 There are many differences women and men experience in the workplace, including benefits or penalties for parenthood.
Research has shown that mothers are penalized in the workplace as it is assumed that they are less focused or dedicated because of their children.
According to the UA, research has shown that mothers in the U.S. are subject to a net wage penalty of 5-7 percent per child and they are often placed in "mommy-track" jobs, characterized by fewer opportunities for career advancement and financial security.
Men, on the other hand, benefit at work once they have children, as they are viewed as the family breadwinner.
This phenomenon is known as the motherhood penalty and fatherhood premium. Researchers at the University of Arizona studied how this changes for married versus single parents.
UA Sociology doctoral student Jurgita Abromaviciute conducted an experimental study and found that when parents are not married, the motherhood penalty and fatherhood premium disappear.
Abromaviciute discussed her research in a UA press release.
"When a woman is known to be single and when she has children, then in addition to being a caregiver, she's also a breadwinner. So, in addition to caregiving, she now also has to provide for her family and she has no one to fall back on. My research shows that single mothers are not perceived as less competent or less committed than single childless women, and they are not less likely to be hired or promoted compared to their childless counterparts. In other words, while the motherhood penalty holds for married mothers, it disappears in the subsample of single mothers."

It is important to note that while single mothers do not suffer from the motherhood penalty, they also do not receive the fatherhood premium. However, neither do single fathers, research found.
"Single fathers, in addition to being breadwinners, are caregivers to their offspring," Abromaviciute said in a UA press release. "Likely, this triggers an assumption that they are more focused on their family than a married father might be, which eliminates the fatherhood premium."
When conducting her research, Abromaviciute asked 160 college students to evaluate job applications including resumes and notes from a human resources interviewer, for fake applicants with comparable experience all applying for an upper management position with a communication company.
The students were aware of the applicants' gender, whether they were married and if they had children.
"For the subsample of single mothers and single fathers, there's no premium or penalty," she said, "which suggests that marital status operates as a strong status cue that, combined with gender and parenthood status, leads evaluators to make assumptions about one's anticipated performance at work."
Abromaviciute said that she hopes to continue her research with a broader demographic of study participants and across a broader representation of possible jobs.