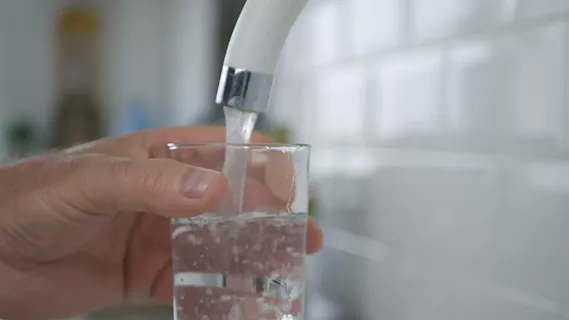 During a standing room only study session on Tuesday, Aug. 14, the Marana Town Council members said they support building water treatment centers in response to recent news of contaminated wells.
Marana residents who live in the affected residential areas have been asking the Council to treat the tap water ever since news broke last month of two types of contaminants exceeding the Environmental Protection Agency's health advisory levels. Marana had been sending out mailers informing Marana Water users of the contaminants since December 2016.
The contaminants, PFAs and 1, 4-Dioxane are unregulated compounds that Marana Water staff found in the two separate water systems that feed Saguaro Bloom and Continental Reserve. These compounds have been found in water sources all over the country, including elsewhere in the Tucson Metro Region.
According to the EPA, the risk exposure for the dioxane health advisory level is one in one-million, over a lifetime. Adverse effects include kidney and liver damage. Marana's levels go as high as two-and-a-half times the advisory level.
Marana Water Director John Kmiec said the EPA is due to release new standards for soil and groundwater contamination this fall, but there's no guarantee they will meet their deadline. Arizona currently has no set guideline, but some states have set their own, which vary widely. For example, the EPA's health advisory level for 1, 4 Dioxane is 0.35 parts per billion, but Alaska set their standard at 77 parts per billion and New Hampshire's is 0.25.
Several town residents spoke at the meeting, expressing concern over the water and satisfaction that the Council seemed on board for treatment as soon as possible.
Saguaro Bloom resident Joyce Reid called the contamination a health hazard and said she's "happy to hear that there may be some light at the end of the tunnel."
Shawna Larsen, a cancer survivor, said the low odds of risk exposure are no comfort to her.
"I heard the presentation using the phrase 'one-in-million chance,'" she said. "Well my chance is over. That already happened. So what I'd really like to be able to tell my coworkers is, 'I live in Marana. They had a problem. They put in a treatment facility. It's working great. They're testing it consistently. And we're really happy where we're at. We're living in our dream home.'"
Vice Mayor Jon Post was the first council member at the meeting to say he thinks the town should build the treatment plants, followed by a chorus of applause. As far as a funding source, he suggested that an additional sales tax might be an option.
"Just one-tenth of a percent for the town of Marana is $1 million a year," he said. "It's not even something that people that shop in Marana would even notice. But yet, it would be a revenue stream that would guarantee us quality water for our residents."
Two water treatment centers, built around the contaminated wells, would cost about $13.5 million to build and then run for 20 years, about $1.5 million less than a previous estimate the town manager shared with Tucson Local Media.
Marana and other local jurisdictions, along with the Arizona Department of Environmental Quality, are continuing to investigate whether the contaminants came from Davis-Monthan Air Force Base or another source, but so far no definitive source has been identified.
Councilmember Roxanne Ziegler said she's definitely in favor of treating the water but not fond of creating a tax to pay for it. She suggested holding off on capital improvement projects to divert funds to cover the treatment centers right away, and hopefully recover the funds in the future.
"I don't want to play the blame game right now, but I'm all for fixing this and then going back and recovering what we can if indeed it was Davis Monthan or some other area," she said.
The contamination levels in a number of the wells has dropped since the town began testing the water in late 2016, though a few have slightly increased. Kmiec said there's no way to know if the wells that are dropping will continue that trend.
Marana Water looked at other options besides treating the water, but advised against them. One of those options is "water blending," which happens when a contaminated system is connected with a clean system.
One such project was already in the design stages, connecting the water systems that serve Continental Reserve and the Twin Peaks area, for the benefit of optimal water usage rather than to dilute contaminants. It should be completed in the next two years. But Kmiec said Marana Water found the blending technique had a low effectiveness rate at bringing the contaminants down to and maintaining a comfortable level.
The Northwest Recharge, Recover, and Delivery System is another project in the works, to be constructed in 2023. It's a joint pipeline project with Marana, Oro Valley and Metro Water to transport water that all three jurisdictions have stored by the Marana Airport.
Another option is looking at accessing Central Arizona Project water, but would take a considerable amount of infrastructure, treatment and precaution. Kmiec said because of these challenges, this option "quickly fell off the radar."
Town Manager Jamsheed Mehta said the town staff will put together a proposal on how and when to build the treatment centers, which should be ready to present to council sometime in late-September to early-October.
Mayor Ed Honea said the council wants to see the treatment facilities happen as quickly as possible.
"We have to work on financing and everything else, but that is not the most important issue," Honea said. "The most important issue is cleaning up the water, and we'll figure out the financing down the road. It may be from three or four different sources."