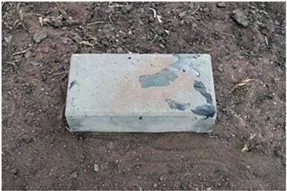 Untitled (Corridor).
This week is your last chance to see this art installation at the UA Museum of Art, and the perfect chance to go to the closing reception. Untitled (Corridor) is an installation of cement bricks made from sand and debris from specific coordinates in Tucson—coordinates that have witnessed the deaths of migrant bodies. This hard-hitting exhibit takes displaced materials and makes them not into units of construction, but into meditations on the cause of migrant death and disappearance. Artist Karlito Miller Espinosa was born in San Jose, Costa Rica, and is an MFA candidate at UA. His work has been exhibited in several countries, including the Tucson Museum of Art's 2018 Arizona Biennial exhibit. Visible 8 a.m. to 5 p.m. every day through Wednesday, Aug. 15. Closing reception is 2 to 4:30 p.m. on Wednesday, Aug. 15. University of Arizona School of Art, 1031 N. Olive Road. Free.
Details here.
Primavera Cooks! at Tavolino Ristorante Italiano.
Head over to Tavolino Ristorante Italiano for a wine-paired gourmet dinner with Primavera Cooks! Dine on the restaurant's classic Italian fare at the nonprofit fundraising dinner, part of the 17th season of Primavera Cooks! 6 to 8:30 p.m. Wednesday, Aug. 15. 2890 E. Skyline Drive. Make reservations through Primavera at 520-308-3104. $125 per person.
Details here.
YWCA STAT Ballot Party.
When was the last time heading to the polls made you feel like you were at a party? Maybe don't answer that. The point is, voting is such an important and cool right, and we should definitely exercise it. So bring your ballot! Bring a friend! And dress up as your favorite patriot, revolutionary, rebel or politico for the chance to win a prize, if you want! This nonpartisan evening features music and nosh, with some special speakers (again, it's nonpartisan, so don't worry. And in fact, make sure you're not trying to do any campaigning while you're there). The Pima County Recorder's Office will be on hand to collect your ballots for the 2018 primary. Voters, start your engines! 5:30 to 7:30 p.m. Wednesday, Aug. 15. The Dusty Monk Pub, 201 N. Court Ave. Free.
Details here.


Events compiled by Emily Dieckman, B.S. Eliot, Ava Garcia and Jeff Gardner.