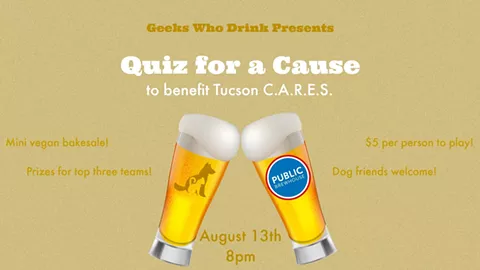 Quiz for a Cause.
Show off your trivia skills in the name of helping animals. Lead your team through eight rounds of trivia—ranging in subject—hosted by Natasha Noir of Tucson C.A.R.E.S. The contest raises funds for the organization's work in animal rescues. During the rounds, snack on vegan treats from the on-site vegan bake sale and sip on brews from Public Brewhouse. 8 to 10 p.m. Monday, Aug. 13. 209 N. Hoff Ave. $5 per person to play.
Details here.
Speed Dating.
Sick of blind dates, online dating or trying to find time to meet people after a long day at work? Arizona Singles and the Playground Bar & Lounge are partnering to put on this event for all single professionals in their 20s and 30s. And why not try it? Think about it: No information is exchanged unless you request it, you meet tons of people you'd never normally run into, and you get to meet people in person so you can more effectively determine whether you have a connection—and if you don't, you're not stuck in an awkward date for the whole night. Really, the worst that could happen is you'll end up with a funny story. As far as the best case scenario? The sky's the limit! 7 to 9 p.m. Monday, Aug. 13. Playground Bar & Lounge, 278 E. Congress St. $32, but save $5 with the code TUCFB.
Details here.
Mondo Mondays.
Head over to The Loft tonight to see the next installment of their College Cut-Ups month theme with Pledge Night. This spooky school film pitches frat boys against a supernatural killer. According to The Loft, this film includes pointless sex and nudity, and the world's oldest stripper. How could you let that pass you by? Admission is $3, or $2 for Loft members. The show starts at 8 p.m.
Details here.


Events compiled by Emily Dieckman, B.S. Eliot, Ava Garcia and Jeff Gardner.