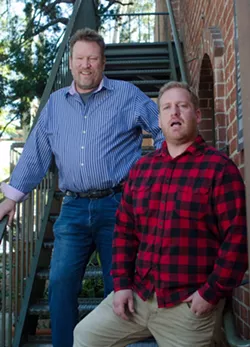 It's not funny at all, per se, and it's almost certainly the world's worst career choice, but years of addiction have made comedy stars of Kurtis Matthews and Andy Gold … now that they're in recovery.
The pair perform as the Addicts Comedy Tour at 8 p.m., Thursday, August 16, at the Jewish Community Center, 3800 E River Rd. Tickets are $20 ($12 for groups of 10), at Eventbrite.com.
Gold recently told The Phoenix Entertainer, "I started doing comedy maybe six months after I got clean, and my whole existence at that time was not using one day at a time."
For addicts, and their relatives, co-dependents and friends who can relate to that, the JCC show offers a rare opportunity to laugh with recognition, insight and occasionally compassion for their addict's struggles. For comedy fans and everyone else, it's just plain funny.
Matthews has toured nationally and internationally since 1984 when a second DUI inspired him to give up alcohol and drug abuse. In 1999, he founded the San Francisco Comedy College, the most popular standup comedy school in the US.
Andy Gold is a favorite at treatment centers and in recovery groups, as well as in comedy festivals and competitions all over the U.S. He began his comedy career in Salt Lake City just six months after a nearly fatal overdose.
Epic Roast Battle
Rich Gary hosts a comedy battle among Tucson comics from 7 to 10 p.m., Friday, August 17, at Epic Café; free.
Reigning champion Roxy Merrari, host of Monday night Comedy at the Wench, defends her title against 15 contenders, tournament style. Judges are Mo Urban, Clint Lapsansky and Collin Chomiak.
Contestants include Steena Salido, John Hernandez, Drake Horner, Paul Fox, Kathie Hedrick, Autumn Horvat, Eli Turner, Dominic DiTolla, Joel Martin, Jesse Andrews, Darryl Graves, Phillip Showers, Sam Racioppo, Julian Moreno and Tony Kanani-Bruhn.
Comedy returns to the Screening Room
The Screening Room Presents Comedy Night at 9 p.m., Wednesday, August 15. Marcus Gallegos hosts and Matt Ziemak headlines. Rounding out the bill are Charles Ludwig, Eden Nault, Cindell Hanson, Andrew Scott and Randy Ford. Doors are at 8:30 and the show is free.
The comedy revival at The Screening Room follows a hiatus in programming as the theatre transferred to new owners. The theater's previous incarnation supported at least two comedy shows weekly, including a Tuesday night standup open mike and a Friday night comedy variety show that mixed standup acts and teams from local improv companies.