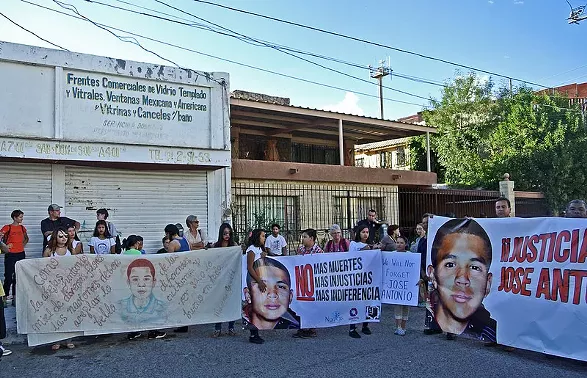 An Arizona federal appeals court ruled today that the mother of the 16-year-old who was shot and killed by a border patrol agent has the right to file a lawsuit. The agent tried to have the case dismissed, but the court opinion says "the agent was not entitled to qualified immunity."
"It is inconceivable that any reasonable officer could have thought that he or she could kill [Jose Antonio Elena Rodríguez] for no reason," the court opinion says.
According to court documents:
Shortly before midnight on October 10, 2012, defendant Lonnie Swartz was on duty as a U.S. Border Patrol agent on the American side of our border with Mexico. J.A., a 16-year-old boy, was peacefully walking down the Calle Internacional, a street in Nogales, Mexico, that runs parallel to the border. Without warning or provocation, Swartz shot J.A. dead. Swartz fired somewhere between 14 and 30 bullets across the border at J.A., and he hit the boy, mostly in the back, with about 10 bullets. J.A. was not committing a crime. He did not throw rocks or engage in any violence or threatening behavior against anyone or anything. And he did not otherwise pose a threat to Swartz or anyone else. He was just walking down a street in Mexico.
The court finds that Jose had a Fourth Amendment right "to be free from the unreasonable use of deadly force by an American agent acting on American soil, even though the agent's bullets hit him in Mexico." They also found that his mother, Araceli Rodríguez, has a right to seek money damages.
"The court made clear that the Constitution does not stop at the border and that agents should not have constitutional immunity to fatally shoot Mexican teenagers on the other side of the border fence," said Lee Gelernt in a statement, deputy director of the American Civil Liberty Union's Immigrants' Rights Project, who argued the federal appeals court case. "The ruling could not have come at a more important time, when this administration is seeking to further militarize the border."
Earlier this year Swartz was acquitted of second degree murder charges in regards to Jose's killing but is facing a retrial on a lesser manslaughter charge.