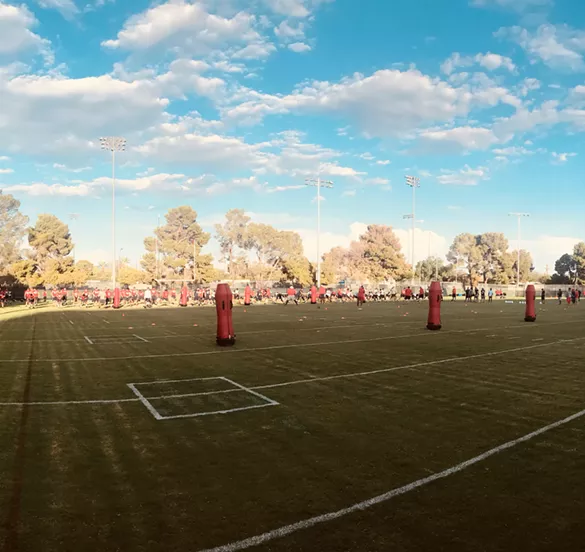 A lone cumulus cloud billowed over the horizon as the Arizona Wildcats football team scurried its way through a late summer practice on Saturday night.
The storm cloud never threatened the practice itself but served as a proper allegory for a squad coming off a tumultuous offseason.
That offseason, which included the dismissal of Coach Rich Rodriguez and the hiring of former University of Houston and Texas A&M Coach Kevin Sumlin, could forever alter the landscape of Wildcats football.
The first glimpse of the Wildcats' future came last weekend, when the team held the first of its two-week-long fall camp practices.
The pad-less practices allow coaches to see how their players look in executing their assignments, while giving players a chance to earn a start in the Wildcats starting lineup.
Sumlin did not address the media after the team's Saturday practice, though first-year offensive coordinator Noel Mazzone did.
Mazzone, who previously served the same capacity at Texas A&M with Sumlin, has coached since 1980—when he took his first gig as a graduate assistant at his alma mater (the University of New Mexico).
Mazzone's main task is making sure that rising junior quarterback and Heisman Trophy hopeful Khalil Tate is ready to go for the team's opener against Brigham Young University on Sept. 1.
Mazzone expressed confidence in the California gunslinger, saying Tate is further along in his development than he expected.
"[Khalil's] done a good job the first two days right now. But like any quarterback, you're looking for consistency and he's shown that so far," Mazzone said on Saturday. "But then it's only been two days. So, I'm excited at where he's at with him."
The junior quarterback will look to one-up his gaudy statistics from a year ago, when he threw for 1,591 and ran for 1,411 yards with 14 passing and 12 rushing touchdowns for the Wildcats.
Mazzone believes that Tate has the right demeanor to do just that, working hard through summer and fall camp to improve his game.
"He's a pretty grounded kid and I know that he knows where he's at with this football team and in his career," Mazzone said. "I think he just comes out every day to get better and help this football team win."
Building depth
A key for Mazzone and the Wildcats this season will be their ability to build depth, so the team can cycle in players without missing a beat.
He's encouraged by what he's seen from the team's wide receivers and tight ends so far, praising senior wideouts Shun Brown and Shawn Poindexter in particular for the efforts in practice. Mazzone knows that both seniors will be crucial in Tate's development as a passer, providing sure-handed targets downfield to open up running lanes for the junior.
"I feel really good about those guys right now. We've got some good competition on the outside," Mazzone said. "…It's like any camp, what you're always looking for is competition because competition builds good football teams."
Mazzone said he's thrilled with Tate's willingness to work on making his game more versatile, working hard on his passing skills to compliment his athleticism.
"He's a dynamic runner and I think what he's trying to do now is become a rounded quarterback where he can also play the play the position the other way too in the pocket," he said. "And that's what I think he's been working hard on."
Brown expressed confidence in his ability to carry the Wildcats passing game this fall, saying his work over the offseason should propel him further than in year's past.
The Louisiana native is thrilled with Mazzone's pass-heavy offense so far, believing he'll have more opportunities to make plays at receiver, a year after leading the team in receiving yards (521) and yards per catch (18.0).
Brown is confident in this year's receiving corp, saying the veterans and young guys share a hunger to succeed not found in years past.
"I feel like those guys, when they came in, they're hungry. They ask me questions, they always want to throw, do extra stuff," he said. "And I believe they want to win. So, that right there speaks for itself."